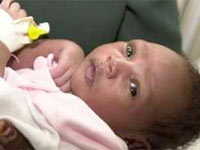 Eight babies have tested positive and two of them have died as a result of an infection in the Neonatal Intensive Care Unit (NICU) of Princess Margaret Hospital (PMH), the Public Hospitals Authority announced.
The bacterium is known as Acinetobacter Baumannii.
All babies in the unit have been tested for the infection, the PHA said in a statement.
"The infection is now contained and measures are in place to prevent further infections," the statement said.
"The remaining six babies who tested positive for Acinetobacter are well and are on antibiotic treatment."
Acinetobacter Baumannii bacteria are known to occur in hospitals worldwide where infants have immature immune systems or not fully developed immune systems due to prematurity, the PHA said.
Minister of Health Dr. Perry Gomez admitted yesterday that more could have been done faster to address this problem.
Asked whether he thought the outbreak was properly handled, Gomez said, "No, I'm not because the ministry should have been notified a long time ago by the institution (PMH)."
Gomez said the first case was detected three to four weeks ago.
Free National Movement Leader Dr. Hubert Minnis, who is a former minister of health, asked questions in the House of Assembly about the outbreak on Wednesday.
Minnis said yesterday it is obvious his questions triggered the release of the PHA statement.
"My concern is why were they keeping this away from the public," he said, adding that he learnt of the matter "about a week or two ago".
"My obvious concern is the babies. Why did they wait so long to inform the public? What are they hiding?"
But Gomez said the report into the investigation was received after Parliament met, which is why the press statement was only sent yesterday.
He denied that it had anything to do with Minnis raising the questions in the House of Assembly on Wednesday.
Gomez said the Acinetobacter scare is not over yet.
"The last case was about a week ago," he said. "The patient is doing well but it takes a while before you can say it's over."
An Acinetobacter outbreak hit the special care baby unit at PMH in 1996, causing widespread concern.
A report on that outbreak from the Centers for Disease Control and Prevention explained that Acinetobacter are multi-drug-resistant bacteria that grow well in water and cause infections with unexplained, increased summer prevalence.
In August 1996, eight infants acquired Acinetobacter bloodstream infection while at PMH. Three infants died and an investigation was initiated, noted the report.
It said Acinetobacter may cause infection and death among infants during periods of polyclonal airborne dissemination; breaks in aseptic technique during i.v. medication administration may facilitate transmission from the environment to the patient, the report said.
Environmental conditions that increase air conditioner condensation may increase the risk of infection, the report noted.
Candia Dames
The Nassau Guardian