Airline Chief Attacks 'Unfair' Grants
October 3, 2012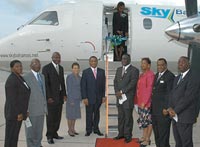 CEO of Sky Bahamas Randy Butler said Bahamian airlines are struggling, and to compound the problem they must compete with a heavily-subsidized Bahamasair and foreign carriers that also benefit from government subsidies.
"I'm competing against airlines that fly the same type of airplanes like I do, but if you notice they are getting a lot of play from the Ministry of Tourism," he said.
Butler noted that US Airways for its route to Freeport received a $750,000 subsidy, West Jet $150,000 and Delta Airlines $500,000.
Former Minister of State for Finance, Zhivargo Laing shared the figures at the 2012 Bahamas Business Outlook.
Butler, who was speaking at the Religious Tourism Summit yesterday, noted that in addition to providing generous subsidies to the Grand Lucayan and cruise ships, Delta Airlines received a subsidy for fuel cost premiums to the tune of $350,000 on Grand Bahama, West Jet's subsidy for service to the island and co-op marketing equaled $600,000 and some $5.7 million dollars was spent on Vision Airlines for subsidies and marketing by the government.
Butler said the high cost of fuel continues to be a challenge for Sky Bahamas and other Bahamian airlines.
"Right here in Freeport for example, fuel is $2 and about 30 cents more than Nassau. It is about $3 more than Abaco and so when you fly an airplane that's going to take 176 gallons of fuel from here to Freeport we have to pay about $700 to $800 for fuel," he said.
Butler noted that there are security charges, departure taxes and landing fees that have to be paid.
"When you pay $149.99 going to Nassau, a lot of that is going to pay taxes, and what we have decided at Sky Bahamas is if we can't deliver you a certain level or service we'll get out of the business. We will not compromise on that," Butler said.
The Sky Bahamas CEO said he knew the Vision Airlines deal (Vision's has stopped its services to the island) would not have worked simply because the island needs to define its tourism product and decide if it will market itself as a resort destination, focus on religious tourism or something else.
He noted that with large subsidies going to foreign entities, Bahamians were not benefitting.
Butler said with the idea of religious tourism being promoted, it would have to be decided if all Bahamians would benefit from it or if others would benefit.
By Cleopatra Murphy
Freeport News Reporter