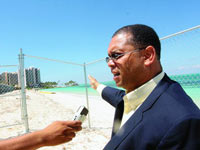 Former member of the Board of the National Insurance Board (NIB) Robert 'Sandy' Sands said yesterday he was "not aware" of the bonuses paid to NIB executives.
However, Sands, who did not want to comment further on the matter, said the issue of executive bonuses would not have necessarily been discussed at the board level.
His comments came days after two other former board members told The Nassau Guardian they had no knowledge of the bonus payments and were shocked by the large amounts paid out.
"Executive committees who deal with personal emoluments, [that] would not normally be a general board decision," he said.
"It would be a decision made by perhaps the chairman, the minister responsible and other individuals who deal with compensation, but the board would deal with general compensation issues. So no, the matter was not brought before the main board."
Eight NIB executives and one person on contract received bonuses totaling $723,333 between January 2010 and May 2012, according to information leaked to the media.
NIB Director Algernon Cargill took home $194,791.66 in bonuses during that period, according to the information.
Cargill and other NIB executives received six bonus payments between January 8, 2010 and May 1, 2012.
Former board member Nicole Martin said last week the bonuses were "outrageous" and she would not have approved the amounts if the matter had been brought before the board.
Martin, president of the Bahamas Hotel Catering and Allied Workers Union, was one of 11 members of the NIB board appointed by former Prime Minister Hubert Ingraham.
Last week, former board member John Pinder also said he was in the dark over the bonus payments until the information was reported in the press.
However, NIB's former Chairman Patrick Ward said the bonus payouts were justified and reasonable. He added NIB went through the necessary authorization before the bonuses were paid.
By Taneka Thompson
Guardian Senior Reporter