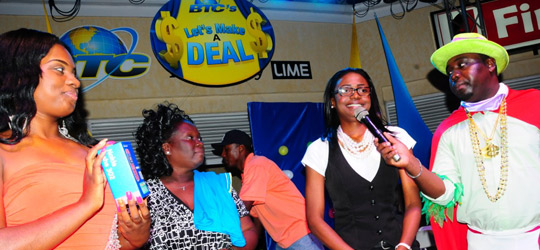 NASSAU, NP — Pelar Sweeting won a brand new Ford Escape courtesy of BTC in a nail biting finally held at a celebratory party in the BTC store at the SW Plaza recently.
Hundreds of people flocked to the South West Plaza on January 9th drawn to BTC's 'Let's Make A Deal' prize-winning party game night, where one of the highlights was selecting the winner of the 'BTC Knight Rider Car Sweepstakes.' The Golden Knights who had each signed the new black Ford Escape helped in the process as each finalist selected a key and tried their luck!
Each of the ten finalists, chosen at random during an earlier press conference had selected a key, via a random draw, and one by one they took turns trying to start the vehicle.

Pelar Sweeting, the 8th finalist of the evening, stepped up to the Jeep and with a shaky hand inserted her key into the lock. With 7 finalists already out of the running, her chances had increased significantly. But could she really win? Pelar had driven to the event in a 20-year-old wagon and was desperate for a new ride. Earlier in the evening, the Nassau resident had replied with certainty when asked if she thought she would be the winner. But would she?
With one look heaven-ward she slowly turned her key in the lock and as it smoothly released the catch she opened the door of her brand new, shiny black 'Knight Rider' Ford Escape! Fireworks lit the sky and falling confetti mixed with her tears. She could barely contain her excitement as the roar of the new engine brought a fresh surge of cheers from the crowd.
"I hoped and I prayed that I would win and I'm so grateful! I'm so thankful I bought my Samsung Galaxy 3 when I did, because that brought me plenty of luck………I'm extra, extra, extra excited," said Pelar, who added she would be driving first to her grandmother who had prayed for her so successfully, to win.
Prior to the Ford Escape drawing, MC Jerome Sawyer BTC Sr. Manager of Public Relations, with the Golden Knights and Demetrius the "Karaoke King" entertained the 300+ attendees in several crowd pleasing, prize winning games such as 'Name That Price', 'Let's Make A Deal' and musical chairs, to win phones, tablets, and BTC vouchers.
Facebook fans who RSVP'd to the event also got the chance to win exclusive prizes as BTC Star, Brandon Huyler, drew the names of fourteen lucky BTC Facebook fans who won BTC Gift Vouchers.
Marlon Johnson, Sr. VP of Marketing & Communications noted that the car giveaway was a fitting cap to the company's busy holiday slate of events and promotions.
"It has been a fantastic season for us, all culminating with the event tonight with the giveaway of our brand new Ford Escape from Friendly Ford. This is a part of what BTC is about in the community. We love giving back to our loyal customers and we will continue to have events to give back to not only our customers but also the entire Bahamian community" said Johnson.
The ten finalists were: Griselda Hart, Derek Smith, Ambrose Adderley, Mariesha Rolle, Richard Ryan, Robert Cartwright, Rex Rolle, George Lowe, Patrick Sweeting and eventual winner, Pelar Sweeting. Each finalist received a meaningful consolation prize pack of varying BTC products including Samsung Galaxy Tablets and iPhones with one year free data service.
Serena Williams
Photos by: MoVi