Miller Slams Emera On Energy Costs
January 16, 2013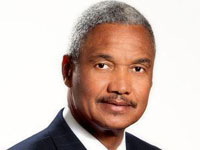 The chairman of Bahamas Electricity Corporation (BEC) accused Canadian energy giant Emera yesterday of maximizing its profits "on the backs of the Bahamian people".
Leslie Miller, who is also the member of Parliament (MP) for Tall Pines, singled out Emera in the House of Assembly yesterday in a discussion on crippling energy prices across the country. Grand Bahama Power Company, which holds a monopoly on the island, is majority owned by Emera. The Canadian multinational has invested tens of millions in recent months to bolster infrastructure and efficiency on the struggling island.
It has also remained vocal on its commitment to the gradual reduction
in energy bills.
However, Miller attacked Emera for imposing high energy prices on residents and businesses, which in some cases are triple the costs of consumers in nearby Florida.
"Here is a company that wants to make a profit in five years and pay off its debt on the backs of the Bahamian people," he announced yesterday.
The comments were partly spurred by news that the energy giant is considering a major multimillion- dollar investment in natural gas for
the region.
Chris Huskilson, president and CEO of Emera, exclusively told Guardian Business last week that natural gas is integral to bring down the cost of energy. He noted that a specific team focused on natural gas for the region will be formed to bolster commercial and engineering capacity.
"We have earmarked capital to work through this natural gas approach and that could see tens, if not hundreds of millions in investment if we see the next step working," Huskilson said. "From an organizational perspective, we have a large capacity to raise capital."
The president identified a "common need" in both The Bahamas and Emera's interests across the region for natural gas.
For his part, Miller agreed that natural gas is cheaper and cleaner, offering a much better alternative to the oil, gas and diesel imported by the public corporation at great cost. The generators at major power plants could be repurposed to accommodate natural gas.
However, in the House of Assembly, he dismissed any notion of working with Emera given their activities in Grand Bahama.
"Tell him to go to Freeport and take the burden off the back of our people," he said yesterday.
In September 2008, Emera purchased 25 percent of GBPC through its acquisition of 50 percent of the shares in ICD Utilities Limited. In December 2010, Emera acquired an additional 55.4 percent interest in GBPC, bringing its direct and indirect interest to 80.4 percent.
ICD Utilities sole asset is a 50 percent stake in GBPC.
Since arriving in Grand Bahama, the company has committed to a gradual decline in electricity prices as it invests in infrastructure and efficiency.
In a statement to Guardian Business yesterday, Emera said there is no "overnight solution".
"While our rates remain competitive in this region, placing us in the lower end of the scale, we continue to work tirelessly on improving our service and stabilizing electricity rates for consumers," it read.
The company further noted that new $80 million West Sunrise Plant has helped improve reliability and stabilize rates. But the largest driver of electricity costs for consumers, Emera said, is the dependence on fossil fuels.
Sarah MacDonald, the president and CEO, of GBPC, has recently been appointed president of Emera Caribbean. The idea, according to Emera, is to apply a renewed focus and consolidate efforts towards alternative energy solutions, "specifically the possibility of bringing natural has to our businesses in the Caribbean".
"We understand that energy costs remain a concern for our customers, as they are for people around the world, and we have been working diligently on several fronts to address those concerns," Emera said in the statement.
By Jeffrey Todd
Guardian Business Editor