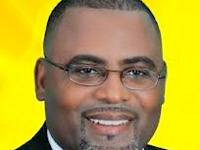 PROVIDENCIALES, Turks and Caicos Islands — DonHue Gardiner, who made international news for remarking in the Turks and Caicos Islands House of Assembly that it is his goal as immigration minister to make the lives of illegal Haitian migrants "unbearable", has engaged in some attempted damage control in relation to the fallout from his comments.
In an interview on local television this week, Gardiner said he was not just singling out Haitians.
At the same time, however, he seemed to be equally concerned that his remarks were widely published, bemoaning the fact that "It's a smaller world today and information reaches other countries quickly."
He went on to repeat his call for all citizens to report all illegals and report all those harbouring illegal immigrants. He said this also applies to belongers.