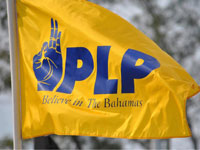 The Progressive Liberal Party (PLP) has had a fairly good run of momentum. It won the 2010 Elizabeth by-election, the 2012 general election and the 2012 North Abaco byelection. The PLP now has 30 seats in the 38-seat House of Assembly and Hubert Ingraham has been retired.
And while the recent handling of the dismissal of MP Greg Moss as National Insurance Board chairman did little to score brownie points for Prime Minister Perry Christie, the next test for the PLP is the gambling referendum on January 28, and its aftermath.
The PLP has taken a strange position. It is bringing forward the referendum but says it has no position on the question to be voted on. When a political organization brings forward a referendum, it has a stake in the process, the questions and the outcome. It is impossible for the PLP to have no stake in what is to come.
If the referendum fails, the PLP will be in a difficult position. The Bahamian people would have opposed an initiative brought forward by the governing party, leaving the governing party with the task of doing something no administration has been able to do – that is, close the numbers houses.
What could be worse for the PLP is if the criticism that has emerged regarding the confused referendum process worsens as the referendum approaches. We know what the questions will be — Do you support the regulation and taxation of web shop gaming? and Do you support the establishment of a national lottery? The wording of the first question has caused some confusion but we will address that at another time.
However, people also want to know what the new law will look like. People want to know who will be licensed to operate what businesses and exactly how the tax structure will work. It is likely that there may be few answers to these questions before the referendum.
After the North Abaco by-election, the PLP looked invincible. With a divided opposition the governing party looked likely to have a free run for some time. However, growing discontent with the PLP could start with a botched referendum if it is not careful.
The PLP should use the remaining three weeks to answer the questions so many Bahamians have about this vote in order to preserve the momentum the party has built up.
The church already opposes legalizing gambling for Bahamians. The opposition Free National Movement (FNM) is also pushing for the 'no' vote. The PLP's referendum could be defeated.
Political good times can come to abrupt ends.
Editorial from the Nassau Guardian