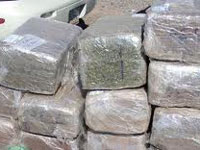 A man is facing federal charges today after telling authorities that he traveled to the Bahamas last week, picked up hundreds of kilograms of marijuana and brought the drugs to West Palm Beach.
Jaime Sotomayor Vega, who is in his mid-30s, faces a charge of possession with intent to distribute a controlled substance. He is scheduled for a detention hearing Thursday.
Federal authorities say they found 96 packages of marijuana, weighing about 668 pounds, in a boat he traveled in from the Bahamas. The boat was later found to be stolen.
Vega told authorities he was about to go fishing when he lost a bearing on the boat's propeller and was waiting for his friends to pick him up, according to a criminal complaint.
Officers became suspicious when they noticed none of the poles on the boat were set up for fishing. An officer called in the vessel's registration and also called for Homeland Security Investigations officers to come to the scene.
Vega and the two others with him were taken into custody. Vega later told authorities that he left for the Bahamas on Feb. 5 and met the other two men in Bimini. He stayed there overnight and on Wednesday he and the two others set sail and met up with another vessel. The drugs were then transferred from the other vessel to the one Vega was using.
The names of the two other men were not released in the complaint.