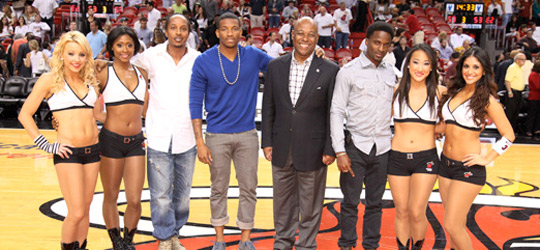 The Miami Heat Organization on Sunday hosted the gold medal winning Bahamas Knights relay team at what  is being described as one of Heats biggest games of the year – Heat vs. The Los Angeles Lakers, at the American Airlines arena, Miami, Florida.
The Golden Knights, Chris Brown, Demetrius Pinder and Ramon Miller (Michael Mathieu was unable to attend),  were in attendance court side at thewinning game of the Heat when the 2012 world championship team defeated the Los Angeles Lakers with a score of 107-97.   Also hosted and seated court side was the Bahamas Minister of Tourism, the Honorable Obie Wilchcombe.
August 10, 2012, Ramon Miller,  outstanding Bahamian sprinter  overcame a five meter lead and surged in front of the American sprinter in the 1,600 (m)  relay of the 2012 London Olympics to victoriously anchor his teams efforts.   The success of the  four member team gave The Islands Of The Bahamas, its first and only medal at the London Olympics and the Bahamas' first gold medal for men in athletics.  The team's outstanding time of 2:56.72 is also reported to have statistically placed The Bahamas as the third fastest nation ever in the event,  behind America and Great Britain.
The Bahamas Knights appearance in the AA arena on Sunday was announced during the game and created a stir among fans in attendance.  The publicity buzz for The Bahamas with the Heat, follows in the wake of a widely well received Super bowl Bahamas commercial.
Life in The Islands Of The Bahamas is as culturally diverse as it is vibrantly beautiful, from the carefree Out Islands to exciting Nassau/Paradise Island and Grand Bahama Island. With world-class diving and fishing, gorgeous turquoise water and miles of picture perfect beaches the 700 islands of the Bahamas offer visitors the opportunity to do everything or nothing at all. For more information on travel packages, activities and accommodations, call: 1-800-Bahamas or visit www.Bahamas.com. To purchase one-of-a-kind items and mementos from the Bahamas, visit www.eshopbahamas.com.
Bahamas Tourist Office, Florida.