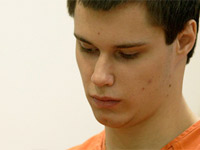 The "Barefoot Bandit," who led police on a two-year, cross-country crime spree in stolen boats, cars and planes, is facing new charges in Washington state.
Colton Harris-Moore is already serving a seven-year prison term after pleading guilty to state and federal crimes, but Skagit County Prosecutor Rich Weyrich filed theft and burglary charges this month against the 21-year-old, accusing him of stealing an Anacortes couple's plane in 2010 and flying it to the airport on Orcas Island, 10 miles away.
Harris-Moore had been a headache for local law enforcement in Western Washington since boyhood, and by his late teens had taken to joyriding in airplanes as a self-taught pilot. He earned his moniker by committing some of his crimes without shoes.
In 2010, he hopscotched across Oregon, Idaho, South Dakota, Nebraska, Iowa and Illinois in stolen cars. He stole a plane in Indiana, crash-landed off an island in the Bahamas, and was arrested when police shot out the engine of a boat he took.