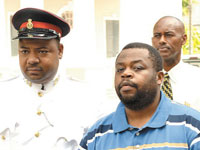 As mystery shrouds the deaths of two men in police custody, a policeman convicted of the death of a detainee is set to appeal his manslaughter conviction.
Donovan Gardiner was sentenced to 10 years in prison for the beating that led to the death of Desmond Key.
Key was rushed to hospital shortly after being placed in the lock-up at the Grove Police Station after his arrest for a traffic offense on June 17, 2007.
According to the evidence, Gardiner beat Key with a baseball bat after he allegedly told the officer he would rape his wife. By all accounts, Key was drunk when he was arrested.
Key remained in a vegetative state until his death on January 19, 2008. Gardiner's appeal is set to be heard on March 27.
Relatives of Jamie Smith, 33, of Nassau Village, and Aaron Rolle, 20, of Ross Corner, who died in police custody on February 8 and 9 respectively, are still in the dark over how they died.
Smith died at the Central Detective Unit, becoming the third suspect who has died at the station since 2010. Rolle died at the Quakoo Street Police Station.
However, family members strongly suspect that both men were beaten by police. National Security Minister Dr. Bernard Nottage said the respective officers involved have been placed on paid leave while the matters are investigated. However, there have been no details on how long the investigation is expected to last.
Police have not revealed the circumstances of the men's arrest, why they were arrested or how long they were detained before they died.
In a press release following the deaths, Amnesty International Bahamas said, "The June 2012 conviction of a police officer for the death in custody of Desmond Key in 2007 was a rare instance of the police being held to account where impunity is the norm."
Amnesty International has called for an independent body to investigate police abuses in order to restore public confidence in the police force.

By Artesia Davis
Guardian Senior Reporter