New Visa Procedures For Bahamians
February 11, 2013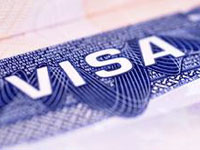 NASSAU, Bahamas – The U.S. Embassy in Nassau will be transitioning to a new web-based visa appointment system on March 11, 2013, that will affect all nonimmigrant visa applicants throughout the Commonwealth of The Bahamas and the Turks and Caicos Islands. There will be no fee increase as a result of these changes.
However, as of March 7, scratch cards and PIN numbers currently required to make a visa appointment will be phased out and will no longer be valid.
The U.S. Embassy strongly advises all visa applicants who have purchased a scratch card but have not scheduled an appointment, to use it to schedule an appointment before the card expires on March 7, 2013.
Visa applicants who plan to apply for a visa on March 11, 2013 or after should wait to use the new web-based system. Specific details on the new web-based U.S. visa application and payment system will be announced prior to the official launch on March 11, 2013. The implementation of this new system is part of our efforts to continually improve our services for our visa applicants.