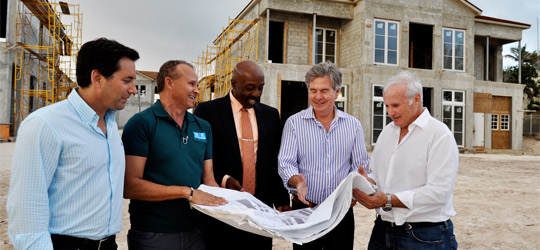 A project rising on the western end of Paradise Island is turning traditional real estate sales wisdom on its head — building multi-million houses on spec during a challenging economy in a location no car can reach. Now, with early signs of success, there's every indication that the microcosm of a community for the very wealthy — accessible only by private boat — will create a new intelligence about how to appeal to those with discretionary income and fine taste — wowing them not just with the expected luxuries and amenities but with an atypical setting so compelling it creates instant value and desire.
The project is called The Beach House Villas. On February 22, a few dozen hand-selected guests, arriving by boat, were invited to a sneak preview during an open house wine and dine event hosted by Mario Carey Realty.
The brainchild of successful developers/entrepreneurs David Kosoy, Joe Brennan and Daniel Greenglass, The Beach House Villas is a five residence community on two and a half acres of the last secluded shore-to-shore land on Paradise Island. When completed, each of its custom-designed two-storey homes will be turnkey — its own private pool, fully furnished, lavishly landscaped and lit, 12′ high ceilings on the first floor and spectacular views throughout, custom stone work finishes on exterior and interior architectural features. Homes range from $5.3 million to nearly $9 million, together a $40 million build-out. Set to complete in late 2013, The Beach House Villas is creating up to 60 full-time construction jobs, plus pool builders, landscapers and others who will be coming on as work continues. General contractor is local company Norstar Group with offices on Tonique Williams Darling Highway.
The job creation was a fact that did not escape the notice or satisfaction of Minister of Labour and National Insurance Shane Gibson, one of the invited guests at the open house. Gibson was also impressed to learn that the land, which had previously been approved for high density development,  was re-evaluated, making way for five homes with a central gym and fitness centre, concierge and laundry service, private docks and a water taxi to ferry residents back and forth across the harbour to Nassau.
"The concept is amazing. It's bold, it's courageous, it's gorgeous. You would never have imagined that something like this with all these luxurious features would be built here," said a private banker, sweeping the horizon with his arm as if the word 'here' were halfway to the moon instead of the western end of Paradise Island. The location he is referring to is smack dab in between the former homes of legendary actors Nicholas Cage and the late Richard Harris (now Kosoy's residence), men who at one time could afford to live anywhere but chose to live within a few minutes' boat ride to Nassau or a long walk down the beach to Atlantis. One the villas are complete, residents will have an advantage neither actor had — the availability of a 4-wheel drive, fully enclosed Kawasaki beach vehicle to whisk them to the restaurants, spas, shops, attractions, golf course, tennis, or other resort facilities on the eastern side of the island.


As co-developer Daniel Greenglass explains, "It's magic. It's as quiet and remote as you want it to be or it's a 12-minute walk to Starbuck's. You have the Atlantic Ocean on one side and these cruise ships all lit up at night on the other. This is true island living plus the luxuries. The beach at your back door, the harbour at your front. Nassau just across the way with all the good restaurants and shopping and business activity. You don't even need to own a car."
For broker Mario Carey who has an exclusive listing on the 3,109 square foot, $5.3 million residence, it's a once-in-a-dream environment.
"You are in a world of your own with all the privacy you want," says Carey. "You can walk down the beach in the morning for more than a mile and not see another footprint. And 15 minutes later you can be on the golf course at the Ocean Club. There's a water taxi to take you to Nassau or further east on the island and you can have your boat right at your doorstep. What The Beach House Villas captures is the feeling of being on your own private island but with all the activity and amenities you want minutes away."
The Beach House Villas, says the broker, is one more reason that Paradise Island stands alone as a real estate success story. "It's all about the lifestyle whether it is private as in these villas or a hotel condo like the Reef where one of our agents just sold $10 million worth of property in the last six months. I do not believe there is another place in the Western Hemisphere that compares to Paradise Island."
By Diane Phillips and Associates
Caption: THE OTHER SIDE OF PARADISE — A $40 million project rising on the western end of Paradise Island is adding a new dimension to a luxury market. Invited guests were transported by boat to  a sneak preview when Mario Carey, 2nd from left, of MCR, hosted an open house February 22. Carey reviews plans with Minister of Labour and National Insurance Shane Gibson, centre, co-developers Daniel Greenglass, left, developer Joe Brennan 2nd from right and David Kosoy, whose vision inspired the five-residence community. The general contractor is local company Norstar Group in cooperation with internationally known luxury design/build firm Brennan Custom Homes Inc. which designed The Beach House Villas. (Photo by Marcus Bain)