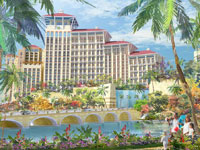 Baha Mar is concerned that there could be a labor shortage in several key areas by the time the mega resort opens in late 2014.
Engineering, golf maintenance and food and beverage are all areas where executives have discovered a skills shortage for qualified Bahamians. Baha Mar is expected to need in excess of 4,500 employees in place in less than two years.
"When you think about the number of offerings that are going to be available at Baha Mar, both within the hotels and in our retail village, we are going to be very hard pressed to find people," according to Kristin Wells, director at the Baha Mar Academy. "We are faced with traditional shortages in more obvious professions like food and beverage, wait staff, restaurant managers, assistant restaurant managers, front and back of house. Room supervision is another area that people overlook, [and that's] a management position within the hotel."
Wells confirmed to Guardian Business that Baha Mar is currently looking for engineers and experts in golf course maintenance. The resort's Jack Nicklaus Signature Golf Course is well underway on Cable Beach and should be open by the end of this year. The Baha Mar executive explained that the destination hopes to grow the golf course maintenance crew into superintendents and assistant superintendents over time. That means candidates should have studied agronomy or golf course management, she said.
"We are actively looking for young engineers to help us through the opening and beyond that who will be responsible for looking after the hotel," she added.
"We need people who are degreed and not just handymen. People who actually have a solid educational background in engineering that like working in a dynamic environment and would like to be a part of the building of the hotel and looking after it once it's open. That's an area of immediate high need for us."
The call for more qualified labor is a timely subject for both the public and private sector. In recent weeks, prominent hoteliers have defended their hiring practices following what many considered to be an aggressive stance on immigration by government. Fred Mitchell, the minister of immigration, announced in the House of Assembly that his department would be cracking down on foreign work permits for maids and other domestic staff. He also hinted that further restrictions could be coming for other industries.
The Bahamas Chamber of Commerce and Employers Confederation and the Bahamas Hotel Tourism Association have both expressed concern on the work permit situation, calling foreign labor as an essential component of the economy.
Robert 'Sandy' Sands, senior vice president of administration and external affairs, came to the defense of the hotel industry. He noted that, in Baha Mar's case, it currently has less than 10 work permits compared to an overall staff complement of 1,000. By the end of 2014, that figure will skyrocket. Sands told Guardian Business that the resort's Heads of Agreement entitles it 200 foreign work permits.
For the Baha Mar Academy, Wells noted the company is intent on inspiring Bahamians, particularly students, to consider a career in hospitality in both traditional and non-traditional areas.
"When you think of a career in finance or IT (information technology), a hotel doesn't necessarily come to mind, but there is definitely a need for it. We are trying to inspire more students to think about careers in hospitality, both obvious and non-obvious. We want people to understand that there are very lucrative careers that can be found within the hospitality sector," Wells added. "We are trying to inspire more students to think about careers in hospitality. We are looking for more opportunities to share individual stories with students to continue the work that we started over a year ago."
Meantime, Baha Mar executives continue its aggressive recruitment campaign at both the high school and university level. Hiring officers have even courted Bahamians now living abroad in an effort to get the best and brightest staff complement once the multi-billion-dollar resort opens.
Baha Mar will include international brands such as Rosewood, Mondrian and Grand Hyatt.
By Scieska Adderley
Guardian Business Reporter