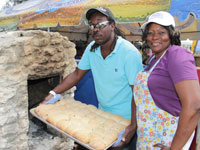 From stories about the rebellious slave Pompey to more modern times inclusive of Independence, the Ninth Annual Bahamian Music & Heritage Festival has certainly lived up to its billing of showcasing the dynamic facets of local history and culture.
On Thursday the historic Regatta Park came alive with the sounds of Hallelujah from various singing groups and soloists against the backdrop of backyard scenes, craft displays, makeshift museums, ancient fixtures and food cooking demonstrations clearly depicting this year's festival theme, "From Whence We Came".
Under the lead sponsorship of the Ministry of Tourism, the opening day drew scores of residents and tourists who braved the chilly weather to get a taste of something uniquely Bahamian but somewhat indigenous to the Exumas and its more than 360 Cays.
Charity Armbrister, Director of the Central and Southern Islands, Ministry of Tourism, says that the festival is one of the most successful signature events for the islands of The Bahamas.
"It is successful because we are committed to keeping Bahamian music alive. It is successful because it is domestic tourism at its best and it is successful because all are benefitting from all aspects of business throughout the country," she said.
One such benefit is the island being internationally known for its beautiful turquoise waters and a popular tourist-wedding destination. This was clearly evident with the presence of newly-weds Lee and Lana Simmons of Texas, who have also frequented the festival over the years. Clad in their wedding attire, they were married at Stocking Island just hours earlier.
Petherina Hanna, General Manager of the Exuma Tourism Office underscored the importance of the community's effort in staging the annual festival.
Calling it a community event, she thanked the Ministry's partners for their dedication and hard work, and offering to share their personal items, souvenirs and historic artifacts with those who patronise the event.
"We collected most of the artifacts over the past 13 years – some belong to residents personally, and others are in trust of the Ministry of Tourism," Ms Hanna said.
The Ministry of Tourism is encouraging residents to "take ownership" in the festival, meaning play a more leading role in organising and promoting the event from a local aspect.
Performances were by Shaback Gospel Choir, the legendary Al Gibson, Gartha Princess, The Curtis family, Police Youth Marching Band and many others.
Demonstrations and competitions were held in onion peeling, straw plaiting/stripping, and culinary arts; bread-baking in the rock oven, boat building and woodcarving.
Plans are already underway for the 10th music and heritage festival, which Family Island Administrator Theophilus Cox, just six months in that post, is looking forward to.
The Bahamian Music & Heritage Festival started in George Town, Exuma, from March 18 – 19, 2005. It is described as a natural extension of the George Town Cruising Regatta, festivities. The main thrust is to promote Bahamian heritage and culture to young Exumians, visitors and Bahamians at large.
By Lindsay Thompson
Bahamas Information Services