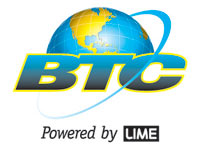 BTC services are now fully restored to Bullocks Harbour in the Berry Islands 9 days after an external contracting company accidentally caused the collapse of the BTC communication tower.
Following the accidental tower collapse BTC technicians were quickly dispatched with Satellite phones for the BTC location and to the area's medical office to provide emergency communication ability.
BTC technicians worked diligently to install temporary 70-foot poles to replace the demolished structure.  The temporary fix enabled cell phone use and some long distance calls, but with understandably diminished quality. Landline, internet, Vibe and mobile phone services were repaired a day ahead of schedule on February 28th.
Inconvenienced residents are being compensated. Postpaid customers will receive one month of free service, prepaid customers will receive a $30 phone credit, and internet, Vibe and landline customers will receive one month of free service.
BTC executives will meet with residents to discuss the outage and allow them the opportunity for open, face to face dialogue with the company's representatives about the outage, future repairs and additional improvements to the island's network.  Meanwhile, needed repairs have been made to the Bullocks Harbour exchange building and generators.   A new tower will be erected as soon as it arrives on the island, to restore full mobile, internet and landline service quality.
Submitted by Serena Williams
Media & Public Relations