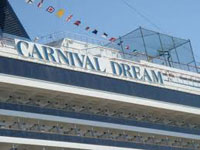 One month after Carnival Triumph passengers were stranded for four days in the Gulf of Mexico, passengers on another Carnival Cruise ship have found themselves stuck in what some described as "toxic conditions".
According to CNN, dozens of passengers aboard the Carnival Dream, which is being docked in Philipsburg, St. Maarten in the Caribbean, complained of power outages and "human waste all over the floor".
A spokesman for Carnival Cruise said that the ship was having a "technical issue" — something involving a malfunction of the ship's backup emergency diesel generator.
Yeah. Sure.
Thousands of passengers – luckily on the last leg of a seven-day cruise – will be compensated and flown home from St Maarten.
The Dream was supposed to leave St Maarten on Wednesday.
The problems echoed those caused after a fire on the Carnival Triumph in February that disabled the engines. While the ship was being towed to Alabama, more than 3,000 passengers and 1,000 crew spent four days without toilet or washing facilities, sparking a class action lawsuit against the company.