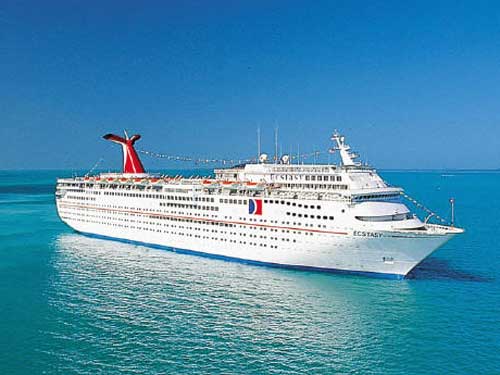 A fire on a Royal Caribbean cruise ship cut short a seven-night sail to the Bahamas and delivered another black eye to a cruise industry already saddled with bad press after a Carnival ship lost power in the Gulf of Mexico in February.
As has become common, Royal Caribbean offered passengers a refund and a voucher for a free future trip. But how many will actually take them up on the offer? Quite a few, experts said.
"I would say most of them do," said Jay Herring, author of "The Truth About Cruise Ships." "The reason is that people love to cruise. And barring any kind of catastrophic mishap such as the Carnival Triumph and the Concordia, it's not going to dissuade them from going again."
The Triumph floated powerless in the Gulf of Mexico for days in February, with malfunctioning toilets and no air conditioning. The Concordia partially sank off the coast of Italy last year, killing 32 people; its captain now faces manslaughter charges.
By comparison, those on Royal Caribbean's Grandeur of the Seas had it easy. Passengers who departed from Baltimore Friday expecting a weeklong trip to CoCoCay in the Bahamas, instead found themselves awakened by the ship's fire alarm at 2:50 a.m. Monday. The fire "started on an aft mooring deck and spread to the fourth deck at the crew lounge area before it was extinguished," a Coast Guard official told CNN. Nobody was killed, and the only injury was a sprained ankle, the network reported.
As the ship docked early in Freeport, Bahamas, Royal Caribbean set up flights to ferry people back to the mainland. It offered a refund on airfare for those who booked travel through Royal Caribbean International, and said it would pay change fees for those who had not.
"People realize they're safe. Accidents happen," said Steve Cosgrove, the president of Dynamic Travel and Cruises, who was a passenger on Grandeur of the Seas on the trip before its most recent one. He estimated "100 percent" of passengers would take the free voucher. "This was a fire on the back of a ship, nobody died, everybody got a two-day cruise, a full refund, flown back, and they get a ticket to a new cruise. What's not to like?"
Royal Caribbean spokeswoman Cynthia Martinez said the company wouldn't comment on how many people generally accepted offers of a free cruise after a mishap. Other lines, including Disney, Carnival and Princess, also declined to comment or did not respond to information requests.
By MSN News