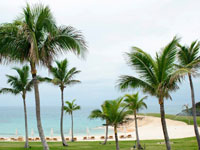 The Cove, Eleuthera opened March 1, 2013, with a sunset grand opening that included an official visit from Bahamas Prime Minister Perry Christie and a performance by singer Aaron Neville. The event reflected the dual hometowns of the resort's developer, Sidney D. Torres IV, who has homes in both locations.
"We believed in his (Sidney's) vision," P.M. Christie told reporters as he toured the property. "This milestone is not only significant for the hotel it is significant for Eleuthera and indeed the Bahamas…this event marks the moment we usher in a renaissance in tourism in Eleuthera."
An experienced hotelier from New Orleans, Torres welcomed guests at the event, many of whom were the first to stay in the resort's brand new accommodations. "There's something about Eleuthera that is special and it's the people who are special. I promise you we are going to make [The Cove, Eleuthera] the best in the world and it will be because of the people," Torres spoke to guests as they listened on the resort's newly planted cashmere zoysia lawn.
Torres was heavily involved in The Cove's design, development and construction. He bought the property in July and has worked tirelessly planning and executing what he has termed a "rebirth" of the property, which has been a mainstay of the island since 1969.  Torres personally managed every detail, completing 60 rooms in 10 months with an additional 60 rooms scheduled to come online later this year.
"It's beautiful, wonderful," Grammy award-winning vocalist Aaron Neville remarked. "I'm thinking of coming back here for vacation…the scenery is out of sight. It's tremendous, it's laid back, it's way cool."
Torres is offering the use of his personal plane to fly guests from Ft. Lauderdale Executive Airport to Eleuthera, as part of an exclusive amenity package. Additional amenities include 500+ thread count bedding, iPod docking stations, 50″ flat screen televisions, wireless internet access, in-room safes, Nespresso coffee makers and Molton Brown bath accessories.
By: The Cove Eleuthera Resort
Source: PR Newswire