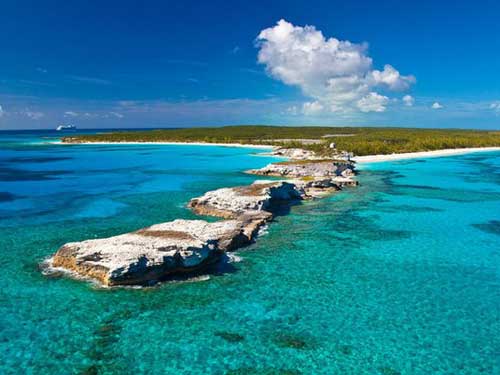 The island of Eleuthera is becoming an important economic hub and environmentalists say the sale of a large parcel of land at the southern tip, known as Lighthouse Point, requires close examination.
The spot has the one of the best beaches in the Bahamas and untouched land where habitats, important scientific research and artifacts lay, they said.
The One Eleuthera Foundation's petition to "Save Lighthouse Point" and its surrounding areas that make up 720 acres has gained local and international attention.
The petition garnered 1,600 signatures within one month on the One Eleuthera Foundation's Facebook page.
And, while Prime Minister Perry Christie has mentioned the petition in the House of Parliament, more action needs to take place to save the land from the wrong kind of development – like a gated community or mega resort – the group said.
Prominent Bahamians, ordinary citizens and foreigners have signed the Lighthouse Point (LHP) petition, which states: "Archaeological and scientific findings have been significant and as reported this place is considered to be one of the most important, unexplored archaeological and scientific sites in the Bahamas."
The nearby Millars Slave Plantation has artefacts that date back to the early 1780s and traces of the Lucayans can be found in the ruins of old Bannerman town and at Lighthouse Point, the group said.
"The Bahamas is an ecological paradise on Earth and there are only a few ecosystems like this (Lighthouse Point) that remain," said the Foundation in a statement.
The natural beauty of LHP is powerful and one student said she "Felt in touch with God" during her visit there.
Errol McPhee, who hails from nearby Bannerman Town and signed the petition, said: "There were many major developments on Eleuthera and as economic hard times came upon us, the investors left. It is time for eco-friendly investments that will include the residents and descendants of Eleuthera."
Although the One Eleuthera Foundation is at the helm of this fight, it is the Eleuthera Land Conservancy (ELC), a non-profit organisation that works towards the protection of Eleuthera's terrestrial and marine resources, that is raising money to purchase Lighthouse Point.
Others that support the cause include: the Nature Conservancy, the Bahamas National Trust, the Island School, and BREEF.
"We want successful, sustainable and responsible development in Eleuthera and I think our Prime Minister understands this," said Shaun Ingraham, the CEO and founder of the One Eleuthera Foundation. "We would also like a natural park established so that Bahamians and visitors can enjoy the space. Much like Clifton, we should have a Lighthouse Point National Heritage Park."
By Azaleta Ishmael-Newry