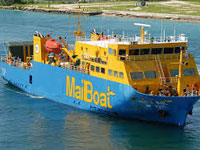 You don't have to be a native to travel like a local. Here are a few authentic ways to experience the Out Islands of the Bahamas.
Hop The Mail Boat
If you want to travel like a local in the Bahamas, take the slow boat to the Out Islands. Journeys by mail boat aren't quick or fancy, but for around $80 round-trip, you can share a bunkroom and swap stories with fellow Bahamian passengers.
Departing weekdays from Nassau, the 18 mail boats deliver livestock, crates of produce, pallets of toilet paper, and other supplies to several of the main Out Islands. The journey can take five to 15 hours. You might be in port for one night or up to six days before returning to Nassau.
If You Go: Contact the dockmaster's office in Nassau at (242) 393-1064 to confirm departures and arrivals. Head to Rum Cay for coral reefs and unspoiled beaches, Abacos for quaint colonial towns, and Ragged Island for great fishing. No matter where you land, look for local fish-fry shacks at the piers.