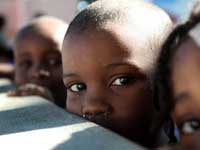 Authorities in the Bahamas say they have intercepted a rickety boat carrying 30 Haitian migrants, including five children.
The Royal Bahamas Defense Force says it is transporting the migrants to the capital of Nassau, where they will be met by immigration officials and Red Cross volunteers. They will eventually be sent back to Haiti.
Military spokesman Origin Deleveaux says the sloop carrying five youngsters, one woman and 24 men was stopped early Sunday off Exuma Cays in the central Bahamas.
Haitian migrants have been coming to the Bahamas for years, fleeing severe poverty. They mostly try to reach the U.S., though some remain in the Bahamas to form a low-income workforce. While no official statistics exist, there are thought to be thousands of Haitians living in shantytowns on the islands.
By Associated Press