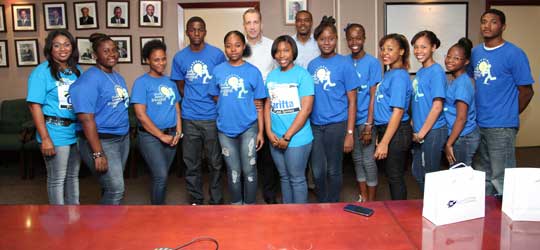 The Bahamas Telecommunications Company (BTC) recently presented the members of their 2012-2013 BTC New Providence Junior Achievement Company, "The S3s" with congratulatory awards.
BTC is a sponsor of the character building programme.  Marlon Johnson senior vice president of Marketing and Communications said that BTC recognizes the positive effects of the programme and the company's support of a JA team is a part of their ongoing community building efforts.
"Junior Achievers provides a unique experience of hands-on learning over an extended training period.  It helps the students with financial literacy, social interaction, academic enrichment and personal growth and it sets goal and objectives for the team members to help prepare them for their move into the job market.  Every aspect is a learning experience and as employers, we are interested in that encouragement," said the Senior Vice President.
"It is in all of our interests to help toward the development of an informed, dedicated work force to sustain and build the country.  BTC is proud to be a sponsor and looks forward to further experiences with future team members."
The Bahamas Telecommunications Company (BTC) is the leading telecoms operator in The Bahamas. BTC is jointly owned by Cable & Wireless Communications (51%) and the Government of The Bahamas (49%). Cable & Wireless Communications has both management and Board control.
By Serena Williams