Steve Harvey Spotlights Grand Bahama
April 10, 2013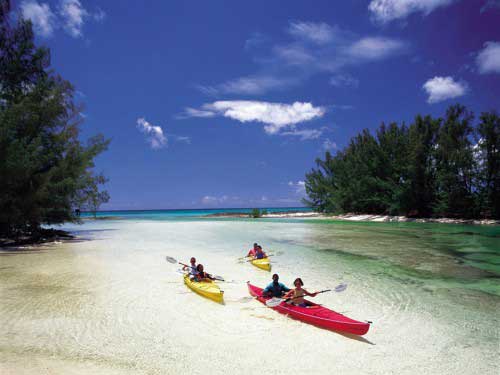 Grand Bahama Island took the spotlight on the Steve Harvey television show when guest Emily Kaufman highlighted the many vacation experiences available on the island.
Ms. Kaufman, who is known as the travel mom, has gained a tremendous following for her media advisories on travel. In 1996, long before blogging was popular, she started sharing her travel experiences online. Since then, she has held several high-profile television positions, including travel contributor for Good Morning America and appearing frequently as a guest on CNN Headline News.
"Grand Bahama Island is a lot of fun," Ms. Kaufman said on the show. "I just got back from there. I thought it was just chill at the beach, have a cocktail, do nothing. You can do that in The Bahamas but not me. I sea kayaked, and what I found was that on Grand Bahama Island, there are sea caves. So you go in the kayak and see all the fish and wildlife around you."
Ms. Kaufman told the studio audience and a television audience of more than 1.7 million people about hiking to caves after kayaking, attending the Fish Fry at Smith's Point, dining on conch, and enjoying dolphin interactions at Lucaya's UNEXSO. In addition to her commentary, a lucky member of the studio audience won a trip to Grand Bahama through the partnership of the Ministry of Tourism and Grand Lucayan Resort.
"You are leaving here with a five night stay at the Grand Lucayan Resort on Grand Bahama Island," Steve Harvey announced to the excited audience member.
The vacation includes complimentary massages, dining at resort restaurants and round-trip airfare.
Ms. Kaufman and Mr. Harvey both agreed that The Bahamas is one of their favorite places to vacation.
By Tourism Today