Storm Damage Still Not Fixed Six Months Later
April 10, 2013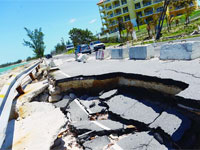 Nearly six months after a portion of West Bay Street near the caves was badly damaged in Hurricane Sandy, the road has still not been repaired. However, Director of Public Works John Canton said repairs will begin this week.
The delay was apparently due process in awarding the contract.
The government awarded a $200,000 contract to Stephen Knowles Construction, a New Providence-based construction company, for the repairs, Senior Structural Engineer in the Ministry of Works, Robert Mouzas said.
Work is expected to be completed within the next four weeks, officials said.
A 300-foot concrete sea wall will be erected, making the area less susceptible to storms and ocean damage in he future, according to Mouzas.
Other necessary improvements could be delayed until the next fiscal year as part of an ongoing overhaul of that portion of the island's coastal defense management system, Mouzas added.

Source: Royston Jones Jr.
The Nassau Guardian