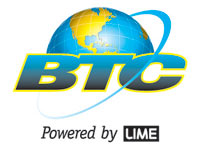 Fulfilling its promised expansion into ownership and job opportunities for Bahamians, the Bahamas Telecommunications Company (BTC) will open ten new Franchise locations in New Providence and Grand Bahama over the next four months and another twenty within an eighteen month period.
New in-store jobs created could reach up to 200 plus, while another 200 construction and logistics job openings available during the build out bringing an expected economic injection of some $3 – 5million in direct construction costs and another $1–3million in direct injection through ancillary services and supplies .
"This is the start of our promised expansion into franchising and opens up opportunities for Bahamian entrepreneurs while helping us meet another business objective, that of bringing BTC products and services closer to as many neighborhoods and island communities as possible.  Over the next four months BTC will be opening up approximately ten new Franchise locations in New Providence and Grand Bahama and over the next eighteen months, we should have more than twenty independently owned BTC Franchise stores and kiosks if the current plans and pace are maintained," said Marlon Johnson, Sr. Vice President of Marketing & Communications.
"We currently have 3 Bahamian-owned BCT Franchise stores open – The Grand Bahama store opened last year, and just recently Grand Cay and Soldier Road, with Prince Charles opening on June 1st.
"BTC is among a select few local companies to embrace a franchise model and we did it because we believe that Bahamian ownership is the smarter way to grow our business; and we like the idea of providing opportunities to create employers rather than employees, – a BTC Franchise network talks to that."
Mr. Johnson went on to say that as part of the support system for local Franchise stores some of their existing locations will close, but no staff redundancies are planned among full time staff members.
"No full time staff is affected by closures as we need them in other stores and   areas within BTC.  Some part time staff members will be displaced, but Franchisees are eager to interview them to take advantage of their BTC product knowledge and experience. Many will be placed within the expanding franchise channel."
"Awarding a franchise locally gives Bahamians a chance to become part of an established business model, one with a successful track record providing onsite sales, marketing and customer support.  It is a great opportunity for Bahamian entrepreneurs," said Dwight Gibson, BTC Manager Franchise Sales and Operations.
The Bahamas Telecommunications Company (BTC) is the leading telecoms operator in The Bahamas. BTC is jointly owned by Cable & Wireless Communications (51%) and the Government of The Bahamas (49%). Cable & Wireless Communications has both management and Board control.
Serena Williams