Record Rainfall Creates Widespread Damage
May 24, 2013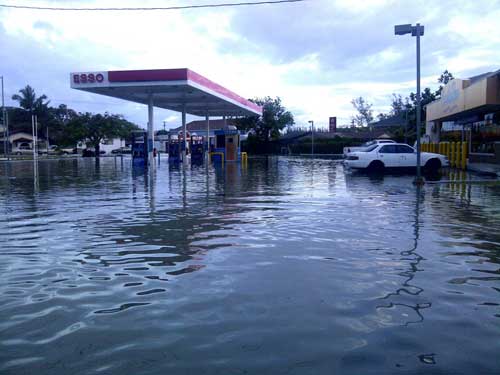 Thousands of New Providence residents were left bailing out their homes yesterday after record rainfall created widespread flooding, catching many people off guard.
The nasty weather pounded the island on Tuesday evening and into yesterday resulting in the closure of schools and some businesses.
Stalled out vehicles littered the eastern and western portions of the island as the raging waters wreaked havoc.
Over on Paradise Island, the tunnel leading to Royal Towers was flooded by the thunderstorm.
Many businesses were also flooded.
Trevor Basden, senior deputy director at the Department of Meteorology, said 12.79 inches of rain were recorded at the Elizabeth Estates Police Station and 15.29 inches in the Camperdown area.
He added that on average 4.54 inches of rain fall in the month of May.
The worst of the flooding was in eastern New Providence.
Some residents said they had to abandon their homes Tuesday night.
Tow truck operator Donald Lloyd slept in his car with his son as bucket loads of rain water filled his Redland Acres home.
Lloyd said when he entered his house yesterday morning to survey the damage he was shocked by what he saw.
The water rose above his knees and nearly everything in his house was submerged beneath the dirty, oily water.
Lloyd, who installed a drain in his yard a little over a year ago to prevent flooding, said he has never seen so much rain settle in that area.
"I've been living here since I was about a year old," he said. "It's never been this bad."
Lloyd said most of the appliances in his house were destroyed.
"My TV, my fridge, the bed and all of that is gone," he said.
The Bahamas Department of Meteorology noted that the system that passed over the Northwest and Central Bahamas resulted in severe thunderstorms, strong gusty winds, dangerous lightning and waterspouts.
Lloyd said his home started to fill with water around 8 p.m. He said by 10 p.m. he was forced to take refuge in his car.
"The area is a low-lying area and the two or three governments knew that for years, but no one has come to deal with it," he said.
Lloyd said area residents were forced to block the road to prevent moving vehicles from pushing more water into their homes.
"We also had to shut down everything in all the houses in this area because the water is up to the (outlets), to make sure that no one got hurt," he added.
His house was one of dozens of homes in that area that flooded.
Kevin Johnson, 44, a dump truck driver, was waist deep in water when he walked into his home yesterday morning.
Johnson, who has been unemployed for the last several months, said he cannot afford to replace anything that was destroyed.
"I'm very (upset) because I was (already) low on cash," Johnson said.
"My house is low so when the rain came it's just like my $100 gone down the drain because (the groceries) that I bought for the week are underwater. Now I don't know how I'll eat for the week."
Johnson said he was unable to save much as the water came into his house very quickly.
"There was nothing I could do," he said.
"I rest the TV on the counter and I'm running a drop cord through the house because I just paid someone to get a little bit of (power) from them. I got an (electrical shock) when I put the drop cord up on higher ground."
The cords were resting atop a cooler in the living-room.
Johnson nailed a long piece of wood in front of his door when the rain first started but the barrier was no match for the flood waters.
Johnson said the flood resulted in thousands of dollars in damage.
"The TV stand and fridge and my brand new bed are underwater. All my clothes are underwater with oil and grease…I'm flooded out and I'm hungry now," he said.
Johnson said he's hoping that the Department of Social Services will assist him.
Johnson's neighbor Wade Riley faced a similar dilemma. He said he was asleep when the rain started.
"I woke up about 10:30 p.m. and stepped in water," Riley said. "I had to go and try to turn off all the appliances, but I woke up too late because the fridge was already destroyed.
"I tried to secure the door so the water could stop coming in, but I couldn't stop it. The whole house is flooded."
In Pinewood Gardens, an area prone to flooding, residents said the water rose higher than ever.
Porsha King, a resident of Saffron Street, said she will probably be scooping water out of her house for days.
King shares the home with her family members, including six children who had to be evacuated early yesterday morning during the thunderstorm.
One of King's relatives, who only wanted to be identified as Mary Jane, said she and her family had to take the children out of the flooded house on their backs around 1 a.m.
"We went to the (neighboring) church, but the church wasn't open. Then we had to take them there on our backs," she said, pointing towards a black Hyundai.
The rain continued to fall yesterday as hundreds of residents cleaned up their homes.
The system was expected to be out of The Bahamas by early this morning.
By Krystel Rolle
Guardian Staff Reporter