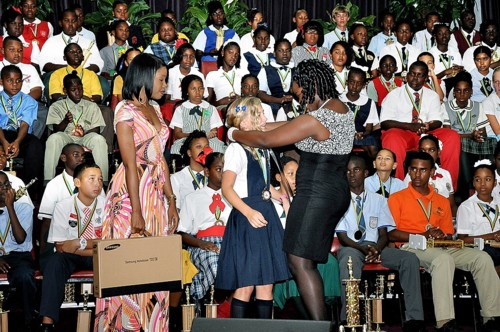 Primary School Student of the Year and a $5,000 scholarship.
At the end of the ceremony, an enthusiastic Allie expressed gratitude to all of her teachers for encouraging her to go the extra mile.
The Honour Roll student has maintained a GPA of 4.0 for five out of six years in primary school; one year she made a 3.90 GPA. She has held the number one position in her class throughout her primary schooling and earned awards in the school's spelling bee, poetry and speech competitions. Allie received the Minister of Education's Literacy and Numeracy Award for earning high scores in the IOWA Mathematics and Rigby Reads Diagnostic Tests and also scored high marks in the Grade Level Assessment Tests (GLAT).
The stellar student is not shy about speaking in public and is frequently called on to address various audiences at school and in the community.
Although she devotes a significant amount of time to her studies, Allie also teaches English to the Haitian children in Spanish Wells and assists them through her church, Living Stone Ministry.  She is a regular participant in the Cancer Society's Fun Run Walk and 'Ride for Hope', as well as the island's environmental cleanup campaigns.
With all that she does academically, it is amazing that Allie is also a serious sports enthusiast who plays softball, baseball and competes in track and field and cheerleading. In addition, she is active in her school and church choirs and plays the recorder and guitar.
Her father, Corey Pinder, said that he expected Allie to do well in the competition but didn't know whether she would earn a top spot. The proud father said that he is amazed at the confidence his daughter displays at such a young age. According to Mr. Pinder, when Allie returned to school following the awards ceremony, a banner was hanging congratulating her on her achievement.
"They were all happy for her," he said.
Racquella Sweeting, Customer Service Representative at Custom Computers, said that the company is happy to assist the Bahamas Primary School Foundation in its mission to recognize outstanding young students.
"We have been supporting the Foundation for the past five years by donating a computer for a top student to use in their future studies," she said. "We believe that if students are rewarded for their hard work at an early age, it will build their confidence and motivate them to succeed later in life."
Ms. Sweeting said that she hopes that many of the 123 students who participated in the Primary School Awards will also enter Custom Computers' annual 'A's for Excellence' contest, which offers primary, secondary and local college-level students who have earned at least one 'A' on their final report card a chance to win an exciting computer package.
For additional information on the 'A's for Excellence' campaign please visit www.AforExcellence.com.
By: Val Gaitor