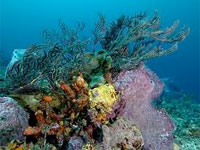 BIMINI, Bahamas — The thought of running your boat across the Gulf Stream to fish in the Bahamas can be intimidating, but it's not that difficult, and well worth the effort.
I was reminded of that after my friends and I made the crossing from Miami on a recent Tuesday morning, cleared customs and departed the Bimini Sands Resort & Marina to go fishing.
After anchoring near a reef in 62 feet off Hammerhead Cay and putting two chum bags in the clear, blue water, we immediately had fish behind Marc VI, George Poveromo's 28-foot Mako center console.
Drifting back small pieces of bonito and goggle-eye in the current, we were soon catching big yellowtail snappers.
We also lost a number of snappers to sharks: We'd get a bite, start reeling in the fish, then the line would zing off the spinning reel, which meant something big had grabbed the hooked fish. After a few moments, the shark would bite through or break the leader.
One of the neat things about fishing the reefs around Bimini is you never know what other species you might catch. Dave Nyitray got a hit from what he assumed was a big yellowtail, then a 10-pound dolphin leaped out of the water and Nyitray carefully got it close enough for Carl Grassi to gaff.
Poveromo noted that kingfish often swim through the area, and then proved his point by landing a 16-pound king that ate a live pilchard on a circle hook with no wire leader.
The host of "George Poveromo's World of Saltwater Fishing" on NBC Sports and the organizer of the Salt Water Sportsman National Seminar Series, Poveromo, of Parkland, Fla., takes great pleasure in introducing others to the bountiful waters around Bimini.
His 16th annual Bimini Fishing Extravaganza, which is June 12-16 at Bimini Sands, is the ideal way to learn your way around the island, which is 55 miles from Miami, or about a two-hour boat trip from South Florida on a calm day. Last year, 42 boats from as far away as Texas took part.
Poveromo, Nyitray and Grassi will be there to help anglers with everything from tactics and techniques to rigs and fishing spots for a variety of species. Each afternoon, there are dockside cocktail parties where anglers can swap fish stories and pick the brains of the pros.
Two Poveromo tips before you go to Bimini: Pack your boat with boxes of chum and bring plenty of tackle.
We caught most of our yellowtails on lightweight Penn spinning outfits with 20-pound Sufix braided line and 15-pound fluorocarbon leaders tied to tiny No. 8 hooks, but Nyitray used a bigger outfit with 20-pound monofilament line and no leader and Grassi, who was bothered by a pinched nerve, used a Penn International 12V reel with 50-pound braid and 30-pound fluorocarbon leader to crank up yellowtails before the sharks could get them.
There is no cost to take part in the Extravaganza, which is open to boats 23 feet and up. Bimini Sands, which has floating docks and one-, two- and three-bedroom condos with washers and dryers, is offering special rates. The resort also has fuel, ice, two restaurants that'll cook your catch for you, free Wi-Fi, a swimming pool and Neal Watson's Bimini Scuba Center, which offers diving and snorkeling trips as well as rental gear.
By Steve Waters, Sun Sentinel