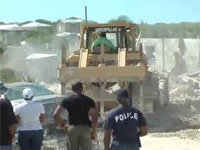 Providenciales, Turks and Caicos Islands — Last Friday, a joint law enforcement taskforce of the Informal Settlement Committee demolished 23 structures in Providenciales that were unoccupied and still under construction, as part of the Turks and Caicos Islands government's informal settlement containment programme.
The operation was carried out under Section 22 of the Crown Land Ordinance, which gives the director of Crown lands the authority to remove unauthorised structures from Crown land.
Leroy Charles, director of Crown land, said that during the operation care was taken to ensure that settlers' rights were not violated and that no one was left homeless.
Commissioner of Lands, Tatum Clerveaux, also noted: "Any structure which bore evidence as a current dwelling place was spared, as it is not the government's intention to forcibly remove settlers without adequate notice or due process."
Friday's demolition exercise followed posting of notices on illegally developed properties in an area of Five Cays, commonly referred to as the "Wells".
The exercise was targeted at individuals who had been carrying developments on Crown land without proper authorisation.