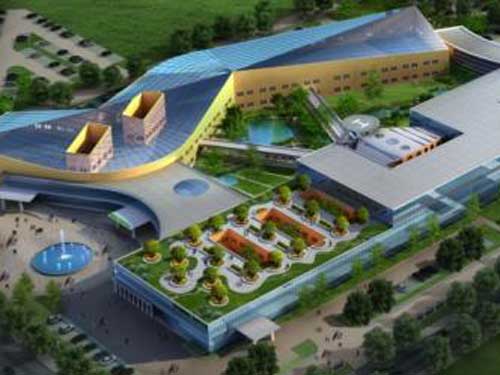 Trinidad and Tobago will have a brand new children's hospital by the year 2015, funded through "a government to government arrangement" between Trinidad and Tobago and China.
The self-contained structure will be constructed in Couva and will cost US$150 million (TT$975m). It will come with a rooftop helipad for emergencies and a multi-training centre for medicine, nursing and pharmacology.
Prime Minister Kamla Persad Bissessar told the audience at a 2012 sod turning ceremony for the facility that the hospital is very close to her heart.
"It is a dream which I have cherished for quite some time," the prime minister said.
The children's hospital is expected to have a centralized medical facility equipped with the most modern high-end medical equipment. It will have a housing facility that will serve as a hotel, a guest house, shopping mall and other amenities that will make it an integral part of health tourism in Trinidad and Tobago.
Persad Bissessar said, unlike other projects under the previous administration, the hospital will not become a white elephant.
"We are not about erecting white elephants willy-nilly; we are not about creating edifices of political egos, monuments of pretentious aggrandizement at the expense of ignoring the plight of the people. We are carefully planning the development of Trinidad and Tobago that encompasses the entire country, north, south, east and west, urban and rural. And we are about being people centered," the prime minister said.
When completed the facility will have 230 beds, a burns care unit, a central pharmacy, children's and adult's casualty clinic.
The memorandum of understanding for the project signed between Trinidad and Tobago and China has a promised completion date of March 2015.
The project is a design-finance-construct model and the Urban Development Corporation of Trinidad and Tobago (UDeCOTT) will supervise the construction.
By Marcia Braveboy
Caribbean News Now! Contributor