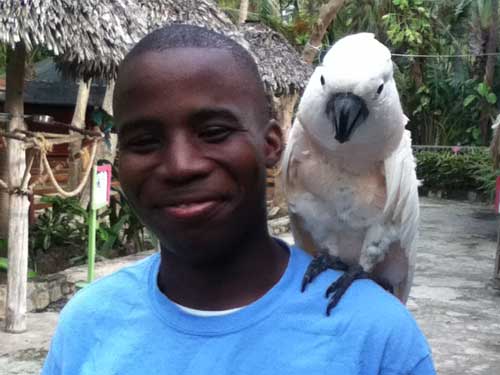 Volunteering at Ardastra Gardens combines two of Xavier Knowles' passions – animals and community service.
"I think community service is very important because you get to help people," said the seventeen-year-old Government High School student. "It's all a part of team work."
A participant in the Governor General's Youth Award, Knowles is one of hundreds of youth carrying out an estimated 150,000 hours of community service annually while in pursuit of an award from the internationally recognized programme. The majority of participants tend to participate in clean-up initiatives for their community service requirement.
To earn an award, participants choose their own activities in the areas of community service, skills and physical fitness. The Bronze, Silver, and Gold Awards each require a successive degree of effort and determination over varying time periods, beginning at six months for the Bronze. Participants must also complete an adventurous journey (hike) for each award.
Although the GGYA requires only one hour of community service a week, it's not unusual for Knowles to work a whole day Saturday and contribute time on holidays.
"He is unusual compared to the average youth. It's refreshing," said Knowles' supervisor Michael Jimenez, the director of business and administration at Ardastra Gardens. "He is exceptionally hardworking, very mannerly and polite. We are happy to have him on our team."
As a part of his work at the zoo and conservation centre, Knowles feed the animals and help to conduct tours. In fact, he has worked in all areas of the zoo.
"His performance and dedication exceeds that of any student we have had in the past," Mr Jimenez confirmed.
It's that kind of report that the GGYA's national director, Denise Mortimer, wants to hear for each of the 1,000 plus students registered in the programme.
"The GGYA is about personal discovery and building character," she said. "Participants learn the importance of giving back to the community in a very real way."
From the GGYA, Knowles has learnt the importance of team work. "I think that is what GGYA is actually about, being able to work along with people," he said. "It's about working together for one common goal."
Knowles, who loves hiking, admits he has always been intrigued by the GGYA. He credited the organization with developing his leadership skills, the meaningful friendships he has formed and his exposure to Family Islands he had never visited before.
"Knowing the school I attend, I intend to take away its stigma. Therefore, I push forward to represent my school to the best of my ability," said Knowles. "I try to stay focus to give my school a good name and my parents continue to encourage me."
The GGYA unit at GHS is just one of more than 50 GGYA units in The Bahamas sprinkled throughout nine islands.
Since 1987, more than 8,000 young Bahamians have passed through the character-building programme.
The government partners with the GGYA through the G.O.L.D. Initiative, an acronym for Greatness, Opportunity, Leadership and Development – all planks in the ministry's mandate to develop the nation's youth. The financial backing has helped to make the programme more national in scope during the three-year engagement which began back in 2010.
By Precision Media