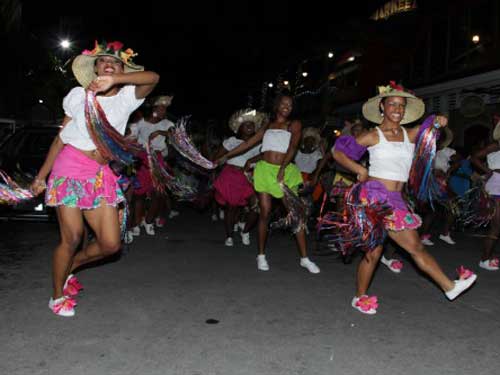 After 39 years, Goombay Summer Festival is as fresh as ever, making another run on Grand Bahama Island every Thursday evening from July 18 – August 1.
Goombay Summer brings street party atmosphere to Grand Bahama once again. Goombay Summer has a rich history. It was established in 1974 as a celebration that became a huge draw for visitors.  Over the years, it was sometimes called Junkanoo Summer Festival but it returns with the original name this year.  It remains a signature cultural event for the Ministry of Tourism.
Betty Bethel, Ministry of Tourism's director for Grand Bahama Island, said Goombay Summer adds to the entertainment and cultural offerings of the island.
"We must always ensure that we are giving our guests opportunities to venture beyond their accommodations and enjoy all aspects of Grand Bahama Island," Ms. Bethel said. "Goombay Summer has been doing this for decades and this year will be no different.  This is another event where our guests can meet local residents and immerse themselves in Bahamian music, dance, and cuisine."
Ms. Bethel added that the festival also brings the potential for increased tourism revenue.
Goombay Summer Festival will be held at Taino Beach from 6pm to midnight on July 18, 25 and August 1.  The event will feature the best in Bahamian entertainment, including performances by Ira Storr and the Spank Band, Stileet, Veronica Bishop, Wilfred Solomon and KB.
Festival participants will also be able to enjoy conch demonstrations, coconut demonstrations, nature walks and bush tea tasting.
Source: The Ministry of Tourism