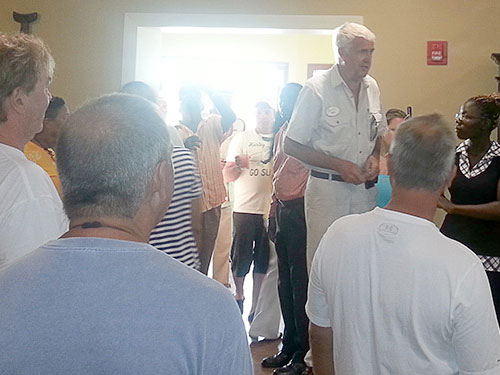 InterMarine Boats of Florida led a 12-day sea adventure through the islands of The Bahamas that brought 100 people and 20 boats to marinas.
The flotilla spent several days in Bimini, Great Exuma, the Exuma Cays and Nassau before its return trip to Florida. While still experiencing the success of the event, InterMarine owner Patrick Galipeau said.
"Every year, I see this community growing and growing," he said. "I see in this trip where I am going to have to separate and do two trips of 25 because it is very difficult to manage and bring people to the island in larger groups definitely. The recession probably slowed it down for a few years but now I see that people want to enjoy life and The Bahamas is really part of that for sure."
Mr. Galipeau pointed out that the sea adventures contributed to greatly to the economy of various islands. The captains and families who participate in the yacht rallies are always looking for authentic souvenirs and smart investments, he said.
"Anything made local, they are always interested in that," Mr. Galipeau said. "Clothes, anything made by hand, they always love that. Some of them already bought some property in Bimini because it was easy with close proximity from Miami. I have two customers who already bought property in the island, sometimes as an investment but also to use."
Car and golf cart rentals were popular with the visitors on the Exuma leg of their voyage. They also patronized local restaurants and bars.
Meanwhile, Dale Westin, manager of the Marina at Emerald Bay, which hosted the yacht rally, said the boaters were also enjoying the amenities of Sandals Resort on Exuma.
"Quite a number of them are taking advantage of our golf course. We have an 18 hole, par 72 golf course just adjacent to the marina in association with Sandals Resort and taking in the restaurant, the beaches and so forth," Mr. Westin said. "The beaches are a big plus and just the color of the water is a remarkable thing and almost everybody remarks about it."
Mr. Westin said organizers are already talking about making another trip to Exuma.
"There are about 10 different rallies that come to The Bahamas each year," he said. "Most of them go to Bimini because of its proximity to Florida. Some go as far as Nassau or other places and we think there is good reason to get them to come down here and see the beauty of Great Exuma."
Mr. Westin also pointed out that the timing of the yacht rally was good for the marina. As the rally took place in a traditionally slow time for marinas, the large group brought in much-appreciated incremental income.
Source: Tourism Today
Caption: Manager Dale Westin welcomes boaters to the Marina at Emerald Bay.