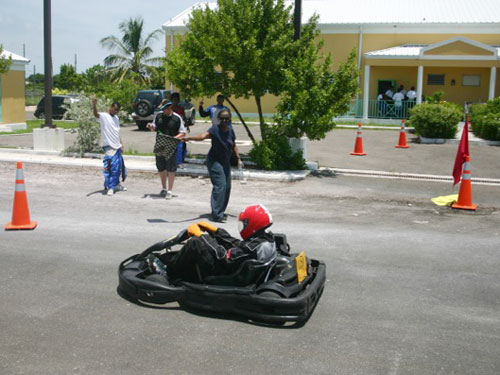 Karting returns to the Bahamas after a hiatus of 54 years when the first World Championship Kart Race was held in Nassau in 1959.
Re-introducing the sport as a Summer Camp Programme in the Government Schools and as the foundation for a Karting Academy, aptly named Edukarting, Karting Bahamas hopes to encourage and teach young students a variety of skills, all of which are essential to producing a viable motor sport industry in the future.
The initiation of this one week programme commenced July 22nd for all government school students at the designated location, Doris Johnson High School.  Starting on July 29th the same programme will be offered at  A.F. Adderley and there is still time to sign up.
The Ministry of Education has given its official support to this inaugural initiative and it is intended to continue in the new school year as an after school programme at the schools which have auto shop facilities.  Edukarting will donate a Kart to five of these schools.
Edukarting and its principals, Mr. David McLaughlin and Ms. Victoria Sarne brought a 40' container to Nassau from the U.K. full of donated and purchased Karts and parts, including suits, helmets, gloves and shoes.  These were sent over by the Formula Kart Star teams who participated in Bahamas Speed Week Revival last year as well as other clubs, parents and enthusiasts  willing to lend a hand and a kick start.
Two professional U.K. Kart Driver/Instructors have also volunteered their services and are teaching the basics of safety, team work, how to take a Kart apart, put it back together, how to budget for a race team and prepare sponsorship packages.  A lot of work crammed into one week – but good and vital preparation for the business of racing.

Naturally, the most exciting and rewarding part is getting into racing livery, donning the helmet and gloves and getting into the driver's seat but not until the young aspiring drivers are fully prepared and judged capable of taking a test run.  Safety is always paramount.
The fledgling drivers had to learn how to operate the kart safely, understand the regulation flag signals and then go for their trial runs at a slow speed, learning how to navigate the course, take corners and obey instructions.
An intense and focussed learning curve but one which the students, now classified as drivers, embraced eagerly.  A lot of excitement and enthusiasm was generated in the classroom and on the track.  Even though dressed in full regulation livery in the sweltering heat, none of the three teams wanted to stop and everyone wanted extra runs on the track.
Is it a success? The quotes from the students say it all:  The Beyond Greatness team said "beyond great": the Twin Turbo team – "a fabulous, fun learning experience"; the Fast Four "the most exciting and fun learning experience ever in the Bahamas".
Karting Bahamas and Edukarting's future plans include establishing a permanent track facility for leisure Karting as well as a Karting Academy – because Karting is where it all begins in the racing world – a world-wide multi-billion dollar industry which provides thousands of jobs and draws the largest spectator audiences.  Who knows, amongst the many talented Bahamian athletes, artists, and technicians, there may well be a future Karting Champion or even a Formula 1 Champion driver, and The Bahamas could have a new and sustainable local industry and tourist attraction.
Victoria Sarne, WPICC
Director Karting Bahamas
Publicist & Event Planner