What comes to mind when you think of the Bahamas? Luxurious resorts? Stunning white beaches? Tropical drinks dressed with cute little umbrellas? Me too.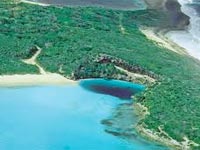 Not sure about you, but I'm long overdue for this kind of pampering. And in embracing the philosophy that self-care rejuvenates the soul, I'm in search of the perfect place that will replenish mine! "Welcome to the Real Bahamas!" A number of locals greet me this way, but I'm really not sure what they mean. I've just come from the country's capital, Nassau, and the adjacent Paradise Island. And if these two hot spots aren't truly Bahamian, then what is? Long Island, located in Bahamas Southern Out Islands, is as peaceful and secluded an oasis as you'll ever find. And here, overlooking one of the world's top 10 beaches, is Cape Santa Maria Beach Resort – my sanctuary for the next all too few days.
Immediately after checking in (and before unpacking) I make a beeline for this sandy playground, a stretch of silky champagne powder that's trimmed by aquamarine surf. I wade, ankle deep, into the tepid waters. The warm breeze is like a caress and the sunshine soothes me blissfully to the core.
Rumour has it this sixkilometre long shoreline is still undiscovered. So, is this the meaning of the Real Bahamas, I wonder? Still unsure, I ask around.
"If you don't know by the time you leave, I'll fill you in," says a resort worker, in response to my question. She flashes me an impish, all-knowing grin before resuming her duties.
Though I'm still in the dark, over the next week in this Caribbean utopia, I'm pretty sure I discover the true meaning of paradise. My ocean-side bungalow, just steps away from the tide-line, is decked out with all the comforts of home: a hair dryer that I forgot to pack, a fridge for chilling my favourite bevies and a coffee maker that rounds off my breakfast to perfection.