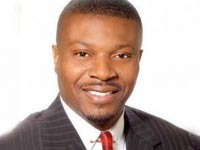 The Bahamas must develop a tax structure "that suits us" according to an ex-FNM Finance Minister, who said that the Government should "rethink" its plan to introduce a 15 per cent Value Added Tax in mid-2014.
Zhivargo Laing, who was the former administration's minister of state for finance, said during a recent meeting of the Rotary Club of Freeport that the Government's plan to implement a VAT on July 1, 2014, was "not doable".
"The Government should rethink this. Firstly, I think that the date is not doable, certainly not to achieve the best results. However, more importantly, I believe that we should step back and see the tax reform exercise more fundamentally and profoundly. Many of the considerations that drove us to look at our tax system with jaundiced eyes have faded. In particular, our offshore finance centre has seen revolutionary changes in the international regulatory environment in which it operates. The timidity that it once had to issues of no or low taxes and even secrecy has matured in some ways," said Mr Laing.
While the Government is proposing a 15 per cent VAT rate, the hotel industry would be subject to a lower 10 per cent rate. The Government plans to eliminate the 10 per cent hotel occupancy tax rate, replacing it with VAT at the same rate. A 10 per cent VAT rate will also be applied to all hotel food and beverage sales. Companies with an annual turnover of $50,000 or less from having to pay VAT. "There will be a limit to become a VAT registrant of $50,000 turnover per annum, meaning that about 3,798 businesses will qualify as VAT registrants. At this rate, the revenue potential to the Government will be around $200 million. If we return to pre-2008 GFS deficits, this new revenue could totally eliminate our deficit, if the government enjoys levels of growth seen in that period and controls increase in spending, which, I admit is a tall order for governments. If we maintain post-2008 GFS deficits, this new revenue will still mean GFS deficits of $300-$400 million, if all else remains equal; and that would not be sustainable or acceptable," said Mr Laing.