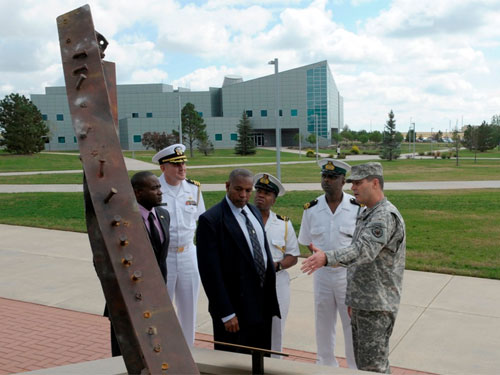 Peterson Air Force Base, Colo. – Representatives from The Royal Bahamas Defence Force visited U.S. Northern Command headquarters Sep. 17-20.
The visit was a theater security cooperation engagement between partner nations to enhance the strong relationships between the two countries.
During the visit participants took the opportunity to exchange ideas and information with command senior leaders on emergency response processes during natural and man-made disasters.
The Bahaman delegation, led by National Emergency Management Agency Director CAPT Stephen Russell, met with USNORTHCOM disaster response planners, joint interagency coordination planners, and humanitarian assistance program managers to see first-hand how USNORTHCOM responds to disasters in support of U.S. government agencies.
"The Subject Matter Expert Exchange provided an excellent opportunity to give an overview of the threats and challenges in the area of disaster management in The Bahamas, and to hear from USNORTHCOM officials as to how we can further strengthen our partnership, and our mitigation, preparedness, response and recovery programme," CAPT Russell explained. "We are indeed grateful for the organization's past and continued support."
Russell also had the opportunity during this visit to meet with Ambassador Stuart Symington, the U.S. foreign policy advisor to the Commander of NORAD and USNORTHCOM to address common challenges, successes, on-going initiatives and the way ahead.
"U.S. Northern Command's cooperation with The Bahamas on emergency preparedness and response is vital to both of our countries," said Symington. "As Captain Russell noted we are continuing to work together with our partners to reduce the harm caused by natural disasters and other emergencies. That requires increasing public awareness, risk reduction, communication, assessment and response. The result is lives saved. Nothing we do is more important than that."
Cmdr. Michael Sweeting, the Defence Force's senior intelligence officer also visited and while here met with NORAD and USNORTHCOM Director of Intelligence Brig. Gen. Robert Walters. The pair discussed the importance of defining security threats and developing ways ahead to meet those challenges.
Walters said he appreciated the interaction with the Bahamian staff and found the visit to be informative and helpful."This week's visit by the Royal Bahamas Defence Force moves our cooperative defense partnership forward. Information-sharing between our nations in the area of maritime domain awareness is mutually beneficial, strengthening our command's ability to accomplish NORAD maritime warning and USNORTHCOM maritime homeland defense missions," said Walters.
"In addition, strong collaboration should ensure that successes against transnational criminal organizations throughout the region do not result in a shift in trafficking activities to The Bahamas," added Walters.
United States Embassy, Nassau
Caption: PHOTO: U.S. Army Brig. Gen. Robert Walters, NORAD and USNORTHCOM Intelligence Director points out the World Trade Center beam on display at the 9-11 Memorial in front of NORAD and USNORTHCOM headquarters at Peterson Air Force Base, Colo. to members of the Royal Bahamas Defence Force (RBDF) on Sep. 20. Pictured from left to right are RBDF Leading Seaman Julian Smith, Intelligence Officer; U.S. Navy Cmdr. Sam Wartell, the U.S. Defense Attaché, U.S. Embassy in The Bahamas; RBDF Cmdr. Michael Sweeting, Security Intelligence Officer; RBDF Lt. Origin Deleveaux, Jr., Aide-De-Camp to Commodore Roderick Bowe and RBDF Public Relations Officer; Lt. Shawn Adderley, RBDF Legal Affairs Officer; and Brig. Gen. Walters.