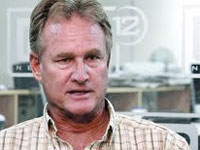 A top contractor has argued that while potentially well-intentioned, any attempt to make the building permit application process electronic would be a "gargantuan" task that may risk further slowing an already inefficient process.
"What the hell are they thinking?" was the response of Stephen Wrinkle, owner of Wrinkle Development and former Bahamas Contractors Association (BCA) president, to the prospect proposed by the government of an online permit application process.
Responding to comments made by architects Marcus Laing and Amos Ferguson welcoming the initiative and by Minister of Works and Urban Development Philip Brave Davis announcing the plans, Wrinkle said that instead of seeking to "go online", the government should look at streamlining the existing manual and paper-based application process.
Like Ferguson, Wrinkle suggested there may be "low hanging fruit" which the government could address in terms of improving the efficiency of the permitting process that would cost significantly less than introducing an electronic system at this time.
"We need to focus on the fundamentals on doing what we do better. I would prioritize the expeditious flow of paper documents before investing huge sums of money in electronic systems. If they want to go electronic, then good luck. I think it's going to be a challenge in this archipelago of islands because it is not like a mainland continent and what works in Florida doesnt mean it'll work in The Bahamas."
He added that the transition to an online system, in which those involved in the building design process submit complex documents via an electronic system to the Department of Physical Planning and all other reviewing agencies, would present a major challenge to both the government employees and those in the construction industry in terms of skills, software and hardware required.