This Super-Yacht Puts All Regular Yachts To Shame
October 30, 2013
Architect extraordinaire Zaha Hadid has done it all. From dancing skyscrapers in Dubai to hidden Russian bungalows, from aerodynamiccouches to aqua tables, she's brought her signature curved line to almost every nook and cranny of the design realm.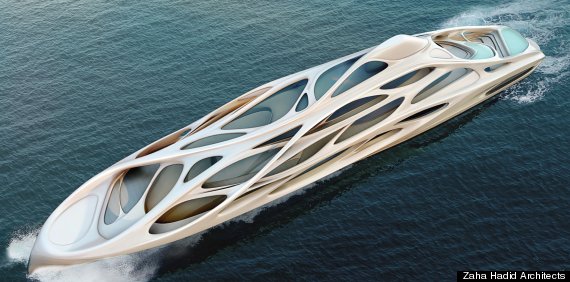 So it's not necessarily a surprise that the starchitect has recently ventured into an even more extravagant area — the world of superyachts.
Hadid has designed what very well might be the ocean's answer to today's bevy of vertical fetes of impossibility. The 420-foot "concept" yacht, created for Blohm+Voss, is a white monster of a boat, adorned with a sinuous exterior that blows the standard cockpit design, well, out of the water. Meant to evoke a "natural aesthetic" informed by the sea's underwater environment, its exoskeleton appears more like the escape vehicle for a futuristic evil villain.
Click here to read the complete article at www.huffingtonpost.com