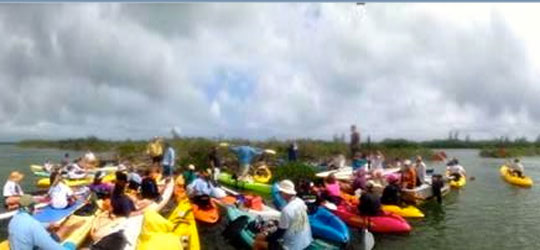 On Saturday November 9th, 40 paddlers set out in support of the Abaco Cancer Society and Friends of the Environment in the 3rd Annual Kayak Challenge.  Organizers of the event were thrilled with the turnout despite high winds and cloudy skies.
Due to the high winds participants all stuck together and paddled an 8-mile course through the Bight of Old Robinson creek system in south Abaco.  While waters were calm in the creeks, paddling through the bay lived up to the "Challenge" in the name of this event.  Some paddlers stopped when they arrived at the Bight of Old Robinson, others continued on to Tom Curry Point, and there were 3 intrepid souls who continued paddling on to Pete's Pub through very choppy seas.
Marjolein Scott, the President of the Abaco Cancer Society, who kayaked the full 8-mile course stated, "This year's Kayak Challenge was just that: A Challenge!  What an amazing day, ..rough seas, lots of wind and some very determined paddlers.  The money raised will go far in helping the Abaco Cancer Society give aid to local cancer patients.  A huge thank you to all who came out to support this wonderful annual event!"
Kristin Williams, the Executive Director of Friends of the Environment, who was in charge of on-shore organization and registration exclaimed "This is my favorite event of the year! Despite the inclement weather all 40 participants were in the best of spirits both before and after the paddle. Everyone was so excited to be a part of this event. It is a great feeling to see so many people working so hard to support these two important community organizations."
Funds from the event benefit both the Abaco Cancer Society and Friends of the Environment.  Funds were raised through business sponsorships and by the participants raising individual sponsorships.  Business sponsors included Abaco Family Medicine, Abaco Petroleum, IE Imports, Marsh Harbour Exporters and Importers, Cherokee Air, Hope Town Harbour Lodge, The Paint Place, Lightbourne Marine, Pete's Pub & Gallery, Shirley Enterprises, Bon Secours Medical Group, Sands Marine Surveying & Consulting, Abaco Tourist Office, Maxwell's and Chelsea's Choice.
Although the course covered up to 15 miles in 2012 and 8 miles this year, much of the creek system still remains to be seen.  So stay tuned for next year's event date – another chance to see more of the wonders of the East Abaco Creeks.
Submitted by Sasha Fair