Declaring 'pink is a vibrant color that symbolizes good health and success,' staff members of the Nassau Airport Development Company (NAD) recently threw their weight behind two events to support the fight against breast cancer.
In one event, NAD employees held a bake sale to support Sister Sister Breast Cancer Support Group and The Cancer Society, selling sweets from their creative Pink Bake Shop to many of the several hundred people who make up the Lynden Pindling International Airport community.
During the second event, male and female NAD staffers dressed in pink to support the 15th annual Lee National Denim Day, a chance to dress for the cause, raising awareness and funds for breast cancer research and education.
"Every year, management and staff show their commitment to the cause of fighting breast cancer, and they display their enthusiasm by bringing creativity and great energy to the related activities," said NAD President & CEO Vernice Walkine.
"While the experience is always rewarding for us, one of the things that made it especially exciting this year was that NAD received the full support of the LPIA (Lynden Pindling International Airport) community including airlines, ground handlers, The Airport Authority and Bahamas Customs."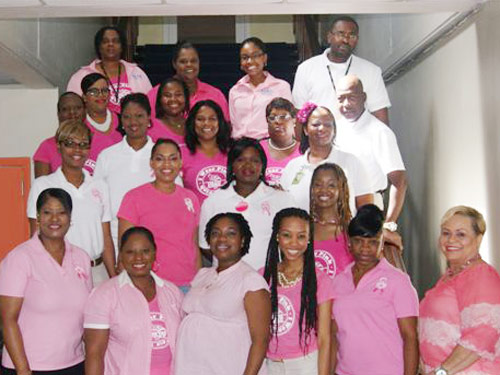 During the Lee National Denim Day event, a globally recognized event when companies purchase and wear commemorative shirts, bands and other items in support of breast cancer, NAD's staff took participation a step further by making it a family affair, purchasing shirts and wristbands for family members.
NAD has stated that it will continue its support of the Lee Denim Day event for the fifth consecutive year in 2014 as well as other causes throughout the year. Additionally, to aid in the fight against world hunger, NAD is currently participating in the Pure Purpose Network's island-wide food drive with collected items split between Hands for Hunger and Core of Hope.
"I am very pleased with the involvement of our staff in this and all initiatives supported by NAD, said Walkine. "We encourage the public to be thankful in all things and share your time and support with those in need. "
Diane Philips and Associates
Captions:
At top: NAD's Director of Human Resources, Sian Bevans presents a cheque to Andrea Sweeting president of the Sister Sister Breast Cancer Support Group in Terminal A of LPIA.  The funds were collected from a two-week October Pink Bake Sale at NAD. The Sister Sister Breast Cancer Support Group is a non-profit group that host events throughout the year to raise funds to support those suffering from breast cancer. (Photo by Danielle Gaitor Photography)
NAD holds first-ever 'Pink Bake Sale'. The two-week bake sale raised funds in aid of promoting awareness of the Sister Sister Breast Cancer Support Group. (Photo by Danielle Gaitor Photography)
4th Lee National Denim Day Held at NAD. In support of finding a cure for breast cancer, NAD's staff members don pink in support of Lee National Denim Day. (Photo by Danielle Gaitor Photography)