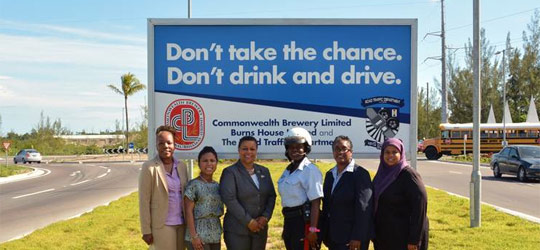 Popular brewer of brands, like Kalik and Heineken, is advocating to keep to keep drivers under the influence off the roads. Commonwealth Brewery Limited (CBL), the Bahamas' largest manufacturer and distributor of beer, wine and spirits, is teaming up with the Ministry of Transport and the Road Traffic Department to raise the buzz about the dangers of drinking and driving. The popular brewer of brands like Kalik and Heineken is advocating to keep drivers who are under the influence off the roads.
CBL is funding the construction and installation of 12 road safety signs throughout the country to educate the public about the dangers of driving under the influence and to promote the use of designated drivers.
CBL and Burns House, its distribution arm, are partnering with the Ministry of Works and the Ministry of Transport's Department of Road Traffic to erect the billboards on the islands of Abaco, Eleuthera, Grand Bahama and New Providence. According to Minister of State for Transportation Hope Strachan, the campaign, though aimed at road safety in general, is especially targeting those who drive under the influence of alcohol.
"The National Road Safety Committee in conjunction with The Ministry of Transport and Aviation is pleased to partner with Commonwealth Brewery in this initiative to raise awareness about road safety…Drunk driving is of particular concern as it has been proven to be a factor in many collisions which have resulted in injury and loss of life. We recognize and thank Commonwealth Brewery for this gesture, demonstrating corporate responsibility and interest in the welfare of road users. These public/private partnerships are important. They herald consensus and bring focus to the issue from all sectors of society. It demonstrates commitment by all participating partners to effect change in our approach to what has become a public health issue. We invite all road users to 'draw the line' against all unsafe activities on our streets."
Road Traffic officials say they want to focus attention on young drivers.
"While drinking is only for adults, young people are our main focus this year," said Karen Mortimer of the Transport Policy and Planning Unit of the Road Traffic Department and Road Safety Project Officer. "This is a great step for Commonwealth Brewery and Burns House to be assisting us. The billboards are very strong and everyone will be able to see them. It's powerful that they are being a responsible company in that regard."
Nico Pinotsis, Commonwealth Brewery's Managing Director, said road safety is a major priority for CBL.
"While we are in the alcoholic beverage business, we want to encourage responsible alcohol consumption and emphasize the importance of appointing a designated driver," said Pinotsis. "Under no circumstance do we want anyone who is enjoying a few glasses of spirits or a few beers to get behind the wheel with impaired skills and reflexes. We want everyone to enjoy themselves while staying safe"
To date, five of the billboards have been erected.
"From heavily populated areas like Carmichael Road all the way out to places like Clifton Pier the billboards will be posted. We want the Responsible Consumption message to reach all over The Bahamas with the purpose of making drivers aware that they have a choice to do right thing — that is to not drink and drive," said Pinotsis.
Diane Philips and Associates
Caption: Pictured l-r: Karen Mortimer, Road Traffic Special Projects Manager; AnneMarie Romer, Stansfeld Scott Brand Manager, Burns House Limited; Hon. Hope Strachan, Minister of State for Transport & Aviation; Traffic Police Officer; Denise Barnes, Group HR Manager for CBL and BHL and Bahiya Hepburn, Civil Engineer, Ministry of Works. (Photo by Charles John.)