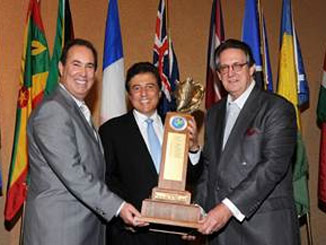 The Caribbean Hotel and Tourism Association (CHTA) and MMGY Global presented the "Caribbean Hotelier of the Year" award to hospitality veteran George Markantonis, President and Managing Director for Atlantis at the recent annual Caribbean Travel Marketplace in Montego Bay, Jamaica.  George is the 34th recipient of this prestigious award, which is the highest professional honor bestowed in hotel and resort operations in the Caribbean.  Past recipients from The Bahamas are George Myers and Stephen Sawyer.
The award recognizes excellence in all areas of operations, as well as a commitment to the training and development of staff, contributions to the community, and a demonstrated commitment to sound environmental practices.  The award also acknowledges each recipient's active role in both national and regional issues affecting Caribbean tourism.
George accepted the award on behalf of the employees at Atlantis and the more than 6,000 hoteliers in the region and the employees at Atlantis.  He was nominated by the Bahamas Hotel and Tourism Association (BHTA) and was the recipient of The Bahamas Cacique award in 2010 when he was recognized as Hotelier of the Year.
Commenting on George's achievement, BHTA President Stuart Bowe said "Our industry, and indeed The Bahamas, are fortunate to have a visionary leader like George."
Industry leaders from The Bahamas attending the awards ceremony included: Stuart Bowe, BHTA President; George Myers, Nassau Paradise Island Promotion Board; Russell Miller, Grand Bahama
Island Tourist Board; Shavonne Darville, Bahamas Out Islands Promotion Board; David Johnson, Ministry of Tourism; Fred Lounsberry, NPIPB; Warren Binder, Paradise Island Tourism Development Association and Frank Comito, BHTA.
In 2005, he assumed the leadership of Atlantis, Paradise Island as President and Managing Director and has overseen its rapid expansion into the iconic and most successful destination resort in the Caribbean.  Atlantis boasts 8,000 employees and 3,400 rooms in six hotels, including the 1,100 room Cove and Reef hotels, a 100,000 square foot convention center, over 50 restaurants, bars and lounges, a 140 acre water theme park, two marinas, a variety of retail facilities and the largest casino in the Caribbean.
George has orchestrated the introduction of innovative themed restaurant concepts such as Bobby Flay's Mesa Grille, Nobu, Virgil's Real Barbeque, and Todd English's Olives.  Many of the resort's restaurants incorporate Bahamian cuisine in their menus.  He has also implemented extensions of the resort's gaming operations with poolside gaming, a state of the art sports betting facility, and mobile gaming.
Under George's leadership, Atlantis has also supported training and educational programs for employees, including working with local high school and post-secondary training institutions on the development of chefs through apprenticeship programs, and providing support for scholarship initiatives and culinary competitions including the Taste of The Bahamas and CHTA's Taste of The Caribbean.
As Vice Chairman of the Nassau Paradise Island Promotion Board George has also helped guide several successful destination promotional activities, including the Companion Fly Free and other air credit programs. He has supported major promotional efforts directed at the growing Latin American market and increasing convention business from both sports and religious groups.
Atlantis also demonstrates its commitment to community and corporate responsibility in numerous ways, supporting non-profit and community activities, and engaging employees in the Bahamas Hotel & Tourism Association and other civic initiatives aimed at improving both the visitor experience and overall quality of life in The Bahamas.  Since 2005 he has also served as a member of the Board of Directors for BHTA.
George's 35-year hospitality career began in Johannesburg, South Africa at the Carlton Hotel, an international flagship of Westin Hotels and Resorts, where he started as a front desk clerk and was soon promoted to key management positions at other Westin properties in Texas, Florida and Canada.  He has also held various positions at Caesar's Palace in Las Vegas and was recognized as Nevada's "Hotelier of the Year" in 2004.  After Las Vegas he assumed the position of president and managing director of the Atlantis Dubai UAE resort during its planning and development phase.  In addition to  Atlantis, Markantonis is responsible for Kerzner's One & Only Palmilla resort, in Cabo San Lucas, Mexico, and One & Only Ocean Club in The Bahamas.