Eddiqua Hall of Kingsway Academy won the 2014 New Providence Junior Young Chef Contest, sponsored by Mahatma Rice and Robin Hood Flour.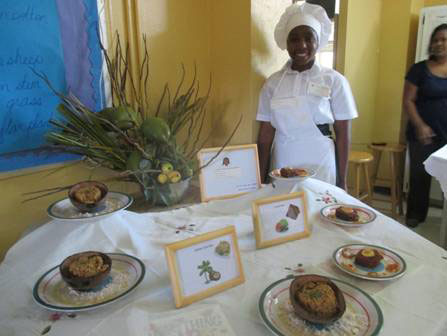 Eddiqua who is 14 years old a ninth grade student at Kingsway earned a total of 832 points with her "Lobster Coco Rice'' (418.5) and "Guava Cake'' (413.5), judged "Best Mahatma Rice Dish".
Judging the Junior Young Chef Contest in New Providence were Executive Chef Seanette Cooper, Sandals; Chef Devain Maycock of Culinary Hospitality Management Institute (CHMI); Chef Celeste Smith European Pastries;  Kwivan Miller, Albany; and Kishma Smith Atlantis.
Chef Smith, a past winner of the competition, inspired the students to continue to do their best regardless of the obstacles.
Eddiqua Hall was well organized in delivering her award winning dishes. She wowed the judges with her Lobster Coco Rice; using grated coconuts and lobster she added a twist on normal rice. She presented her Mahatma Rice dish in barked coconut shells.
Shamara Thomas of H.O.Nash placed second with 489 points with her entries "Pumpkin Risotto" and "Neapolitan Surprise"
Teddisha Mackey of C.H.Reeves JHS came third with 474 points for "Fish Delight" and "Bahama Guava Surprise".
The contest, held at L.W.Young JHS, is a preliminary to the 22nd Annual All Island Championship Young Chef finals, scheduled to be held March 12th at L.W.Young for juniors and March 13th at Anatol Rodgers for the seniors high school student, with over $3,300 in total scholarship available.
"The top two New Providence juniors move on to the national Junior Championship Young Chef Competition", reports to Mrs. Sharon Ferguson, Ministry of Education Home Economics Officer, who coordinates the event with P.S.Advertising and Public Relations, throughout the nation's schools.
For the twelfth year, there will be cash prizes for junior high national Young Chef Winners $250 for first, $150 for second, $100 for third and $50 for fourth.
"National Senior Champion Young chefs will receive $1,500, $750, $300, $200 respectively", revealed Keith Parker of P.S. Advertising and PR, who has been coordinate of the event since its inception.
Sponsors Mahatma Rice and Robin Hood Flour, are distributed in The Bahamas by Asa H. Pritchard Ltd.
P.S. News/Features
Captions
TOP: 2014 New Providence top two finalists!
Eddiqua Hall of Kingsway School and Shamara Thomas of H.O.Nash JHS placed 1st and 2nd overall at the Jr. New Providence preliminary. They both advance to the All Island Championship Young Chef Contest to be held March 12th -13th. Here they are pictured with Executive Chef Seanette Cooper, Chef Kishma Smith, Chef Celeste Smith, Chef Devain Maycock, and Mrs. Bernice Adderly from Ministry of Education. Photo by Keith Parker, P.S. News/Features
(first right) 2014 NP Jr. Championship Young Chef Winner- Eddiqua Hall of Kingsway School won the 2014 New Providence Junior Championship young Chef Contest sponsored by Mahatma Rice and Robin Hood Flour. She advances to the All Island Championship Young Chef Contest to be held March 12th -13th when over $3,300 in scholarship will be awarded. Photo by Keith Parker, P.S. News/Features
(second left) Winning Mahatma Rice Dish
Eddiqua Hall of Kingsway Academy won the 2014 New Providence Junior Young Chef Contest, points with her "Lobster Coco Rice'', which was judged "Best Mahatma Rice Dish". Photo by Keith Parker, P.S. News/Features
(third right) Runner-up NP Jr. Champion Young Chef- Shamara Thomas of H.O.Nash JHS placed second with 822 points for "Pumpkin Risotto" and "Neapolitan Surprise". She moves on to the All Island Championship Young Chef Contest to be held March 12th -13th when over $3,300 in scholarship will be awarded. Photo by Keith Parker, P.S. News/Features
Gallery:
1. 2014 NP Jr. Championship Young Chef Winner– Eddiqua Hall of Kingsway School won the 2014 New Providence Junior Championship young Chef Contest sponsored by Mahatma Rice and Robin Hood Flour. Eddiqua is pictured as she begins preparing her winning dishes.  She advances to the All Island Championship Young Chef Contest to be held March 12th -13th when over $3,300 in scholarship will be awarded. Photo by Keith Parker, P.S. News/Features
2. C.H.Reeves student is third in 2014 Jr. NP Young Chef Competition- Teddisha Mackey of C.H.Reeves JHS, came third with 772 points for "Fish Delight" and "Bahama Guava Surprise". Here she is pictured with her finished dishes. Photo by Keith Parker, P.S. News/Features
3. New Providence JHS Young Chef Judges- Judges for the 2014 Young Chef Jr. NP Executive Chef Seanette Cooper, Sandals; Chef Devain Maycock of Culinary Hospitality Management Institute (CHMI); Chef Celeste Smith European Pastries;  Kwivan Miller, Albany; and Chef Kishma Smith Atlantis. Photo by Keith Parker, P.S. News/Features
4. Flour Dish
Eddiqua Hall of Kingsway Academy won the 2014 New Providence Junior Young Chef Contest, 413.5 points with her "Guava Cake". Photo by Keith Parker, P.S. News/Features
5. Runner-up NP Jr. Champion Young Chef- Shamara Thomas of H.O.Nash JHS scored 822 points with her "Pumpkin Risotto" featuring Mahatma Rice. Photo by Keith Parker, P.S. News/Features
6. Runner-up NP Jr. Champion Young Chef winning Robin Hood Best Flour Dish
Shamara Thomas of H.O.Nash JHS placed second and won "Robin Hood Best Flour" award with her  "Neapolitan Surprise". Photo by Keith Parker, P.S. News/Features