Bahamas Heart Association Announces Winners Of Fun Run/Walk
March 6, 2014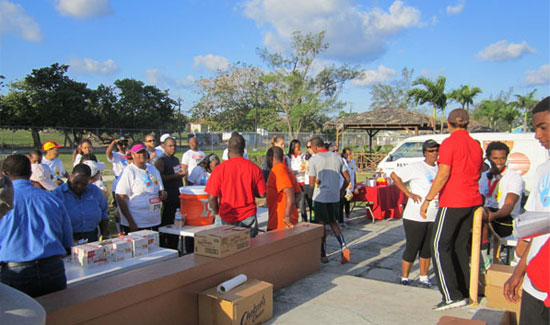 The Bahamas Heart Association hosted their Annual Fun/ Run Walk on Saturday March 1, 2014. This event culminates Heart Month and was a great success. In the words of Tina Lightbourne, Vice President, "It was well attended. We were happy about the turn out".
It is also the event to start March, the month The Association host the March Appeal, encouraging people to become members of the Bahamas Heart Association. The proceeds from the membership dues are donated to The Sir Victor Sassoon (Bahamas) Heart Foundation to help repair the hearts of children.
Below is the list of winners for the various categories.
WALKERS
Under 15 females Paloma Pratt(1st), Chase Ramsey(2nd) and Alexandria Grist(3rd)
Under 30 females Temaka Black(1st), Nelly Jean-Baptiste(2nd) and Melnisha Newbold(3rd)
Under 40 females Briony Seymour(1st), Kenya Mycklewhyte(2nd) and Audrey Ferguson(3rd)
Under 50 females Laverne McLean(1st), Thalia Campbell(2nd) and Govan Dixan(3rd)
Over 50 females Vivian Miller(1st), Villiemae Black(2nd) and Debbie Marche(3rd)
Under 15 males (-)
Under 30 males Devon Lightbourne(1st), Joel Williams(2nd) and Desmond Bain(3rd)
Under 40 males Jermaine Dawkins(1st) and Mark King(2nd)
Under 50 males David Prabhu(1st) and D. Swaby(2nd)
Over 50 males Michael Dillet(1st), Leslie Miller(2nd) and Samuel Campbell(3rd)
RUNNERS
Under 15 females Hannah Dajani(1st) and Nicole Ratcliffe(2nd)
Under 30 females Thea Coleby(1st)
Under 40 females Eve Dorsett(1st), Cenita Duncombe(2nd) and Susan Brice(3rd)
Under 50 females (-)
Over 50 females Ellen Johnson(1st) and Patrice Bethel(2nd)
Over 70 female Dr Gloria Ageeb(1st)
Under 15 males Mark King(1st) -and he is the youngest person
Under 30 males Marcus Williams(1st), Georgino Bodie(2nd) and Kendrick Kemp(3rd)
Under 40 males Omara Miah(1st), Garvier Mackey(2nd) and Lavat Lightbourne(3rd)
Under 50 males Mackey Williams(1st)- and over all winner. Derek Ferguson(2Nd) and Trevor Brice(3rd)
Over 50 males Godfrey Rolle