Globe-Trotting Chef To Head Up Billfish Grill
March 18, 2014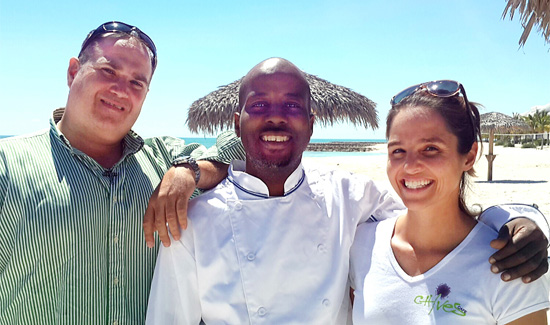 A Bahamian chef who travelled the world studying exotic and cutting edge-cuisine has ended up in his own backyard as the new executive chef at Billfish Grill, the latest amenity to grace the fast-growing marina and beachfront community of Palm Cay.
After cooking his way through Thailand and Japan, Chef Anthony Carey did a brief stint working in the exclusive New York vacation community The Hamptons before returning home to infuse local dishes with his new knowledge and skills.
"Chef Anthony's craft is a fantastic representation on how to fuse traditional Bahamian flavours in a fresh, interesting way. His cooking style is a combination of Caribbean soul and Asian flair that ties perfectly with what we want Billfish dishes to be known for – clean, balanced, local," says owner Lise Russell.
"We started with a basic menu and he worked his magic on it. It is a direct reflection of his palette and I think it really shines through every dish, every flavour pairing."
A sneak preview reveals that Anthony's magic will include dishes such as Blackened Fish Tacos covered in creamy cilantro-lime aioli, and Sweet 'n Sticky Honey Tamarind Ribs.
Billfish Grill's set menu will be sprinkled with daily catch seafood specials, along with rotating desserts and revamped cocktails.
The Palm Cay community already features marina access, 1,200 feet of pristine beaches, ocean-side yoga classes, pools and tennis courts, but homeowners have been eagerly anticipating the new restaurant – an interest driven by a Facebook contest to identify the new executive chef.
Set to open in March, the tropical grill will seat 126 inside and al fresco. The restaurant is a long-held dream for Chives veteran Lise Russell and restaurateur Peter Rounce, who jumped at the opportunity to partner in the restaurant that is expected to become a main feature and drawing card for the burgeoning seafront development.
Billfish Grill will soon be followed by a waterfront bistro and café to be called Chives Dockside serving lighter fare for breakfast, lunch, those on the go and boaters heading out for the day.
Diane Phillips and Associates
Caption:
GLOBE-TROTTER – Bahamian Chef Anthony Carey has returned home to head up Billfish Grill, the latest amenity to grace fast-growing community Palm Cay.  Co-owners of the exciting new restaurant, Peter Rounce (left) and Lise Russell (right) are thrilled to reveal the new menu cooked up by Chef Carey.