Author, fast food restaurant team up to put sharing feelings on the menu at local schools
Hundreds of local students are discovering something new and special on the menu at school, thanks to McDonald's, and while that something has little to do with Big Macs and Happy Meals, it has a whole lot to do with happiness itself.
The something new is a book called Sammy the Snail, the tale of a troubled character who holds all his fears, uncertainties and worries inside until he learns the wisdom and relief of sharing. The oversized, brightly illustrated children's book is becoming a popular addition to schools and an after school program as a result of a partnership between McDonald's, the author and schools with literary hubs or programs.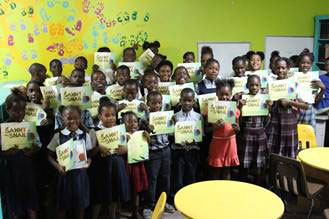 In addition to libraries, McDonald's is spreading its signature healing helping of McLovin' it free of charge to a lucky 200 primary youngsters who are being treated to a combo platter of Sammy the Snail books and an interactive retelling of his inspiring adventure.
The retelling along with the donation of books is part of a Meet the Author series that began in a McDonald's restaurant during a weekly McHappy Hour but was so popular it was extended to schools in February. Author Allie MacPhail, a family and marriage counselling specialist with nearly 20 years' experience, and illustrator Allie Rutland agreed to the talking tour to ignite a spark in children as they turned pages with youngsters, reading together.
The first 90 copies were carefully paged through by Sandilands Primary students, animatedly acted out by illustrator Allie Rutland, whose experience in studio films added a unique flair to the event. The two Allie's – author and illustrator – took the reading next to KPACE, the after school program at Ridgeland Primary led by Darcy Moss, where another 40 books were gifted.
The book was born out of MacPhail's yearning to teach children the art of expressing rather than repressing emotion. The story she wrote captured the heart of McDonald's president Earla Bethel. "We were so taken by the moral of the story and its beautiful illustrations that we wanted to create an opportunity to make the book widely available," said Mrs. Bethel.
The author is grateful to McDonald's for making the book available.
"We are thrilled to be getting the message of Sammy the Snail into the hands of Bahamian children and their families. He inspires us to move freely and it is wonderful to help kids grow up with the courage to better face difficult emotions," says MacPhail.
Next up for Sammy are visits to the Red Cross Center which houses programs for Bain and Grants Town children and the Ranfurly Home, capping off the author's current tour.
For event bookings and additional information, contact turtlebackpublishing@live.com. Sammy the Snail is available at Logos, The Linen Shop, Doongalik Studio, Bahama Sol, Bahama Republic and various other locations around Nassau.
Diane Phillips and Associates
Photos By Vincent Vaughan
Captions
Top from left to right:
McKid with a Sammy Smile – Sammy the Snail author Allie MacPhail shares a special moment with a student at the Kpace afterschool program, teaming up with McDonald's to deliver 200 free copies of the illustrated story to youngsters.
Two boys and one book with a message builds interest in reading and it's all thanks to McDonald's and Sammy the Snail author family therapist Allie MacPhail.
After-school Animation – Children's book illustrator Allie Rutland brings characters to life for captivated students at afterschool program Kpace, where lucky youngsters received a free copy of the recently released book, Sammy the Snail.
Photo on left side: McDonald's serving up a healthy dose of reading –  Youngsters at the Red Cross after school program are all smiles after receiving a free copy of the book Sammy the Snail, thanks to McDonald's.