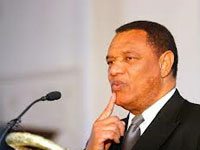 By the general election of 2017, Perry Christie will have been the leader of the Progressive Liberal Party (PLP) for two decades. And for 10 of those years he will have served as prime minister of the Commonwealth of The Bahamas.
At that time he will also celebrate being a member of the House of Assembly for 40 consecutive years – he was a senator too for a period before being elected in 1977.
Christie has had an extraordinary political career. He has done it all. And at 70 he is the leader of his country and the chief of the movement called the PLP.
We are nearing the second anniversary of this Christie administration and the prime minister has shown no sign that he intends to stop doing what he loves most in life: Being prime minister of The Bahamas. Like a re-energized man in his 30s, Christie moves from function to function on a daily basis, opening buildings or programs and giving speeches. His favorite part of these outings is mingling with the people, touching them and asking how relatives are doing.
The PLP is not a normal political party in the modern Western sense. Since it was founded in 1953 it has only had two people with the title leader – Henry Taylor was the chairman. Sir Lynden Pindling and Christie have captained this ship all these years. North Korea has had more leaders (three) than the PLP since 1953. Sir Lynden only left his post in 1997 after a second consecutive defeat when he was dying of cancer. He died in 2000.
Christie now stands as the all-powerful and undisputed leader of the party. His ability to appoint voting stalwart councilors at will has made him invincible. These Christie loyalists protect him from any challenge. They protect him from having to listen to or care about the party's elite.
Some wonder if Christie will run again in 2017. That is the wrong question. Having no rivals and being unbeatable in his party, and loving being leader more than anything else, the real question is whether Christie will ever leave the post as head of the PLP. If Christie runs again – and it appears he will – and the PLP loses, why would he step down? Who could move him?
If the PLP loses the next general election that would mean we had three consecutive one-term governments. Christie would probably think the new Free National Movement administration is likely to be another one-termer. So why not just wait them out?
When there is no threat of defeat in a party race there is no incentive to leave.
Young PLPs need not look for a vacancy at the top of their organization anytime soon. Your king is likely to rule like a monarch. Monarchs almost never resign. They reign for life.