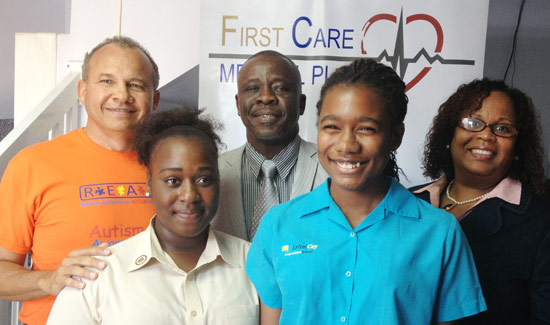 Nassau, Bahamas – FirstCare Medical Plan has partnered with R.E.A.C.H. Bahamas and the Ministry of Education once again to host an essay contest on the topic "Autism in The Bahamas: Inclusion, Advocacy & Dispelling Myths" open to students grades 10 to 12.
The competition is being held to increase local high school students' social awareness of this neurobiological disorder. Interested students are encouraged to submit an 800-1,000 word essay on the topic. Submissions will be accepted through May 16, 2014.
"The Ministry is pleased to endorse this significant event that will do much to educate the wider public and bring greater recognition and support to persons diagnosed with Autism Spectrum Disorder or Autism," stated Marcellus Taylor, Deputy Director of Education for Planning and Development.
FirstCare Medical Plan, as the sponsor of the competition has pledged to provide the grand prize winner with $300 and the first and second runner-up with $200 each. Each winner will also be provided with additional prizes from supporting corporate sponsors including The Shoe Village and Custom Computers.
Last year more than 60 essay submissions were received from students across the Islands of The Bahamas including Grand Bahama, Acklins and Exuma.
"We were so moved by the significant response and the intelligent essays written by the students who participated in the inaugural essay contest that we felt compelled to partner with R.E.A.C.H. and the Ministry of Education once again on this initiative," stated Corinna Neely, President, FirstCare Medical Plan. This is a cause that is near and dear to our company and we are honoured to be a part of the discussion on autism awareness in The Bahamas.
R.E.A.C.H. Bahamas is a non-profit organization that provides parents with autistic children with comprehensive knowledge and tools to treat the disorder.
"Our goal here at R.E.A.C.H. is to sensitize the general public and bring more awareness to autism in our country," stated Mario Carey, President of R.E.A.C.H. Bahamas. "We truly appreciate the partnership between our organization and FirstCare Medical Plan to put on this essay competition. This competition is not only dynamic, it is essential because it brings awareness to students in The Bahamas."
Essay submissions may be emailed to tyrina at firstcaremedicalplan.com.
Diane Phillips and Associates
Caption:
Winning smiles! – FirstCare Medical Plan, R.E.A.C.H. Bahamas and the Ministry of Education congratulate two of the three winners of the inaugural FirstCare Medical Plan Autism Awareness Essay Contest held in April 2013. Pictured left to right: Mario Carey, President, R.E.A.C.H. Bahamas; Lionel Sands, Director of Education; Corinna Neely, President, FirstCare Medical Plan and runners-up Lonell Sweeting of Temple Christian High School and Petra-Marie Edwards of Lyford Cay School. Not pictured is overall contest winner Christa Lyons of Queen's College.